Real Life Broadway Character Profiled in New Book
An All-Time Great Broadway Musical Gypsy, Is The Inspiration Behind A New Book Mama Rose's Turn: The True Story Of America's Most Notorious Stage Mother
---
Broadway's Notorious Stage Mom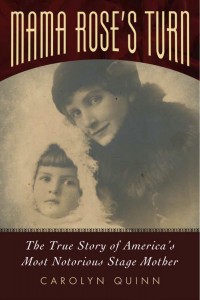 Mama Rose, the brash and calculating stage mom depicted in the classic Broadway musical Gypsy, is the subject of a new book titled "Mama Rose's Turn: The True Story of America's Most Notorious Stage Mother" by first-time author Carolyn Quinn.
The 368-page book charting the life of Rose Thompson Hovick, mother of famed performers Gypsy Rose Lee and June Havoc, is published by the University Press of Mississippi and due to be available on November 1.
Fresh Insights About Real-Life People
"Rose Thompson Hovick, mother of June Havoc and Gypsy Rose Lee, went down in theatrical history as 'The Stage Mother from Hell' after her immortalization on Broadway in Gypsy: A Musical Fable," says author Carolyn Quinn. "Yet the musical was 75 percent fictionalized by playwright Arthur Laurents and condensed for the stage. Rose's full story is even more striking."
The creative team behind the multiple Tony Award nominated 1959 musical Gypsy -- bookwriter Arthur Laurents, lyricist Stephen Sondheim, composer Jule Styne, and director Jerome Robbins -- used another book, "Gypsy: Memoirs of America's Most Celebrated Stripper," for inspiration, but Quinn's new tome is sure to have fresh insights about the real-life people that inspired the characters immortalized in Gypsy.
All-Time Great Broadway Musical
Gypsy is widely regarded as one of the all-time great Broadway musicals, with an excellent book and a tuneful, clever score. Since the original Broadway production starring Ethel Merman, many stage actresses have coveted the role of Mama Rose. The show has been revived on Broadway four times in productions starring Angela Lansbury, Tyne Daly, Bernadette Peters, and Patti Lupone.
Carolyn Quinn will be discussing her book "Mama Rose's Turn" on November 1 at 7pm at the Upper East Side location (150 East 86th Street, at Lexington Avenue) of Barnes & Noble in New York City.