Rachel Weisz To Take on Broadway
Oscar- Winner Rachel Weisz Confirms She Will Make Her Broadway Debut, But Does Not Reveal The Name Of The Play As Rumors Circulate
---
Rachel Weisz Makes Her Broadway Debut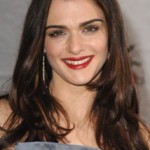 Oscar-winning actress Rachel Weisz (The Constant Gardener) announced today on the British morning TV show Daybreak that she will soon be making her debut on the Broadway stage. "I am going to do a play on Broadway," said Weisz. "It's confirmed."
Weisz did not confirm which play she will be appearing in on Broadway, but rumors have been circulating that she will star opposite her husband, Daniel Craig (Skyfall), in Harold Pinter's drama Betrayal.
Winner Of An Olivier Award
Although Rachel Weisz will be performing on Broadway for the first time, she is not new to the stage. The actress received an Olivier Award for her performance in the Donmar Warehouse production of the Tennessee Williams classic A Streetcar Named Desire. On film, she can be seen in the new movie Oz the Great and Powerful.