Pump Boys and Dinettes Postponing Broadway Run
With A Big Spring Season On Broadway, The Producers Of Pump Boys And Dinettes Elects To Delay Opening To An Unannounced Date In The Future.
---
Broadway Revival "Pump Boys and Dinettes" Delays Opening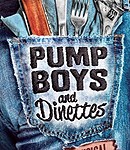 The producers of the planned Broadway revival of the musical Pump Boys and Dinettes have announced that the production won't be coming to Broadway this season. The show was supposed to start performances at the Circle in the Square Theatre on March 19. A new date has not been set yet.
"With the crowded landscape on Broadway this spring, we all agreed that the wise choice was to proceed with a new opening date," stated producer Abby Lee. "We are in the process of determining the updated production schedule and look forward to sharing this wonderful musical with Broadway audiences in the near future."
American Idol's Bo Bice Will Star

Under the direction of John Doyle, Pump Boys and Dinettes was set to star American Idol's Bo Bice. The musical revue originally appeared on Broadway in 1982.
Discount Broadway Tickets
---
---