"Prince of Broadway" Plays Final Show Today
Prince of Broadway, a tribute to Harold Prince, closed early on Broadway following mixed reviews and mediocre box office.
---
Musical Revue Tribute to Harold Prince Concludes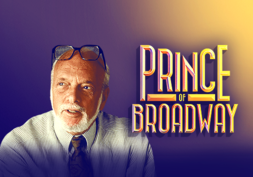 On October 29, 2017, Prince of Broadway plays its final performance at Broadway's Samuel J. Friedman Theatre. The show began preview performances on August 3, 2017, ahead of an opening night on August 24, 2017.
This show spent years in development, and delayed its start date beyond its previously announced season, before finally finding its way to Broadway late this past summer. Unfortunately for those involved, the show was as short-lived as it was long-gestating.
Harold Prince' Celebrated Career
Upon its closing today, it will have played just 76 performances, in addition to 23 preview performances. Harold Prince is the celebrated director and producer of such shows as Damn Yankees, Follies, Fiddler on the Roof, Company, Evita, Show Boat, Sweeney Todd, Cabaret, Kiss of the Spider Woman, She Loves Me, A Little Night Music, Merrily We Roll Along, West Side Story, The Phantom of the Opera, Parade, and It's a Bird…It's a Plane…It's Superman – all of which are given tribute in this musical review.
The show has a book by David Thompson (The Scottsboro Boys, Thou Shalt Not), and is co-directed by Harold Prince himself, along with co-direction and choreography by Susan Stroman (The Producers, Bullets Over Broadway, Big Fish, The Scottsboro Boys). In addition, the composer Jason Robert Brown (Parade, The Last Five Years) provided additional songs and musical arrangements. Even with such a strong pedigree, however, the show failed to win over critics, and will close well before it would have hoped to.
Mixed to Negative Reviews, and Mediocre Box Office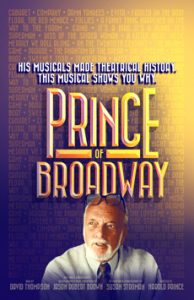 When the show opened, Ben Brantley from the New York Times gave it a negative review, stating that a "host of illustrious composers clamor for attention" in this bizarrely amalgamated production. Other critics were less damning of the show but also not very excited by it.
Rome Torre from NY1 admitted that there is much artistry and talent in Prince of Broadway, but fans of Harold Prince will be left wanting more. Adam Feldman from Time Out New York called it a "dutiful review," comparing it to the line from the Damn Yankees song: "There's nothin' to it, but to do it." Matt Windman from AM New York also felt cheated of innovation in this revue, and Jeremy Gerard from Deadline felt that it would be better suited as the entertainment at a Drama League luncheon, than as its own Broadway show.
Harold Prince Maintains His Legacy
In line with these unexcited remarks, the box office never managed to take off. Over the course of all reported box office receipts from the run thus far, which includes all but the final week, the average percentage reached of gross potential was just 47.16%. With a top ticket price of $299.00, the average paid admission throughout the run was just $78.63, showing a fair amount of discounting.
While this show will not go down in history as a success, that does not undermine Harold Prince's undying legacy. That legacy will certainly live on in the innumerable revivals of the shows he created, which will inevitable grace Broadway in the years to come.