"Prince of Broadway" Opens to Negative Reviews
Prince Of Broadway Opened To Negative Reviews, With Critics Finding It To Be Hackneyed, Chaotic, And Stylistically Unengaging.
---
Musical Revue On The Life Of Broadway Director Harold Prince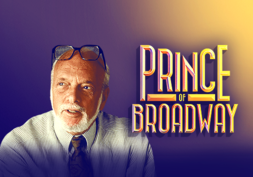 On August 24, 2017, Prince of Broadway had its official opening night at the Samuel J. Friedman Theatre in a Manhattan Theatre Club production. It had been running in previews since August 3, 2017, and is presently scheduled for an open-ended run.
The show has been a long gestating endeavor, as it was originally announced to be scheduled for a Broadway premiere in the fall of 2012. However, unexpected difficulty in raising the show's capital forced the producers to delay the production.
Premieres In Tokyo, Japan
In the meantime, the show found an unlikely premiere hometown in Tokyo, Japan, followed by Osaka, Japan, where the show played in fall 2015. On the one hand, there is a very specific audience for this show, as it is a celebration of the life of one man, who made his career in the United States, directing and producing shows on Broadway. From that perspective, a premiere in Japan seems counterintuitive.
But on the other hand, the fact that there was demand for this show in Japan is testament to the wide impact Prince's shows have had, rippling across the world. Recalling music from such timeless gems as Damn Yankees, West Side Story, She Loves Me, Follies, A Little Night Music, Fiddler on the Roof, Cabaret, The Phantom of the Opera, Company, Evita, Show Boat, Sweeney Todd, and Kiss of the Spider Woman, the new show Prince of Broadway evokes musical memories for residents of the entire planet.
Critics Were Mixed To Negative in Their Response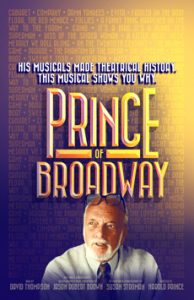 Unfortunately, despite the gorgeous music and source material, critics were generally dismissive of the show upon its Broadway premiere. Ben Brantley from the New York Times was astounding ungenerous to the show, despite its classic show business pedigree.
He stated that a host of illustrious composers clamor for attention in Prince of Broadway, resulting in a bizarre cohabitation of songs that hardly allow the audience to follow whether they just heard a song by Sondheim or Bernstein or Kander or Webber, before the show distractedly whisks off in another direction.
Big Talent Falls Short Of Potential
Roma Torre from NY1 was more kind in choice of words, stating that the performers have immense talent, but she still said that fans of Harold Prince will likely be left wanting more. Adam Feldman of Time Out New York called it a "dutiful review," evoking the line from Damn Yankees that "there's nothing to it, but to do it."
He found the finale written by Jason Robert Brown to be brusquely banal, and the device of the nine performers wearing Harold Prince's signature glasses to be tacky and ineffective. Matt Windman from AM New York found it enjoyable, but tired, and wishes that Prince would use his talents to develop something new, rather than rehash the old. Jeremy Gerard from Deadline stated that the show should be catnip for Broadway fans, but ultimately deemed it a "colossal disappointment."
Jason Robert Brown May Have Lost His Touch
In teaming up with Harold Prince to write a final number and some orchestrations for Prince of Broadway, Jason Robert Brown has signed up for yet another unoriginal Broadway task. The composer of such beloved musicals as Songs for a New World, Parade, and The Last Five Years, not all of which have even had Broadway productions, Brown has become somewhat of a Broadway guinea pig.
Prior to Prince of Broadway, he wrote the score to Honeymoon in Vegas, which flopped, preceded by The Bridges of Madison County, another underperforming adaptation from non-original material. While Brown has been known to bemoan the current state of Broadway affairs, specifically looking backwards to the heyday of Harold Prince's time as a long-gone golden age, perhaps he should instead concern himself with channeling his own creativity and continuing to create new stories, thereby shepherding in the Broadway renaissance that he complains is lacking.