Pop-Up TKTS Booth Opens at Lincoln Center
TKTS Has A New Pop Up At Lincoln Center From August To October To Appeal To New Yorkers To Offer Discount Ticket Deals.
---
A Full-Service TKTS Booth From August To October, 2016 Sells Discount Broadway Tickets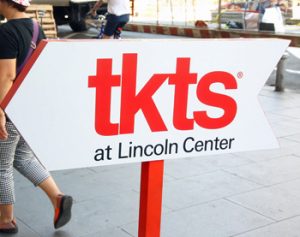 The TKTS Booths in New York City have been providing on-the-day discount theatre ticket options for New Yorkers and tourists alike since 1961.
With the original TKTS "temporary" truck being parked at Broadway and West 47th Street in 1961 and a more permanent pavilion being built in 1973 (which copied the format developed by Broadway Impresario, Joe LeBlang in 1895) TKTS has become a staple for tourists in Times Square.
Go-To Option For Discount Tickets
With its attention-grabbing vista, and large set of red stairs in the middle of Times Square, TKTS has become more than a discount ticket option; it is also a visual mainstay of Broadway. With tourists lining up for what is often a very long queue in all kinds of weather, TKTS has become a go-to option for discount tickets, even if it by no means offers the best deal available for many of the shows on the list, its is the place that tourists gravitate to, as they often do not know any better.
In addition to the principal booth in midtown, there are also TKTS booths at the South Street Seaport and in Downtown Brooklyn. The phenomenon has even traveled to London, where the Society of London Theatre operates a booth in Leicester Square, formerly known as the Half-Price Ticket Booth. As of August 2, 2016, yet another TKTS booth option is available in New York, located at Lincoln Center on West 62nd Street and Columbus Avenue. The venue will remain open until October 29, 2016.
Lincoln Center: The Northern Tip Of Broadway
The Lincoln Center complex encompasses three theatres: the small Claire Tow Theatre, often reserved for new works through the LCT3 program, the Off-Broadway Mitzi Newhouse Theatre, and the larger Vivian Beaumont Theatre, which is considered a Broadway house, despite its location north of all the other Broadway venues.
This means that shows in the Beaumont are eligible for Tony consideration. While Lincoln Center is not the only not-for-profit theatre institution to operate a Broadway house – Roundabout has the American Airlines Theatre and Studio 54, Manhattan Theatre Club programs in the Samuel J. Friedman Theatre, and Second Stage has recently purchased the Helen Hayes Theatre – it is the only theatre to do so on its home turf.
More Options For Same-Day Shows
Lincoln Center already does offer discount tickets to its own shows at its Zucker box office inside the David Rubinstein Atrium, but now it will also offer the same deals to a wide array of shows offered at all TKTS booths. TKTS is well known for offering same-day discount tickets to shows on Broadway and Off-Broadway, advertised as up to 50% off.
Sometimes the discounts are less, such as 40% or 30% off. In general, same-day tickets are available, and matinee tickets are available from the day before (as well as the day of the performance).
An Appeal To New Yorkers, Outside Of Times Square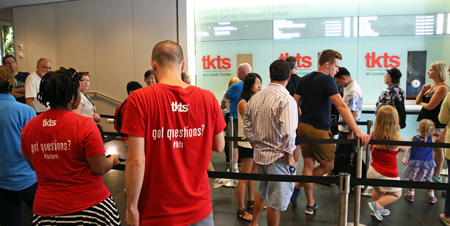 In its last fiscal year, TKTS sold 1.4 million tickets. The majority of these were purchased in the well known Times Square booth, which capitalizes on its high visibility location for tourists, who may not otherwise know of ways to acquire tickets for less money than the full price.
Local New Yorkers, on the other hand, are disincentivized to travel to the chaotic hubbub of Times Square just to purchase discount Broadway tickets, especially with all of the online discount ticket buying options.
Attempting To Make Theatre More Accessible
Therefore, in opening the TKTS booth pop-up in Lincoln Center, the company is trying to appeal to New Yorkers. TKTS is operated by TDF, the Theatre Development Fund, which also offers programs throughout the year, such as those that make theatre more accessible to students and disabled people.
To cover the costs of these programs, TDF also charges a service fee of $4.50 per ticket, on top of the discounted tickets. The TKTS pop-up will also offer week-of tickets for the Lincoln Center shows, as opposed to all the other Broadway and Off-Broadway shows, which are only day of, or day before for matinees.
New Location May Not Be Temporary After All
The TDF, who runs the TKTS booths has a habit of opening temporary booths, only to never actually close them down. In some extreme cases the did close TKTS location, with the 9/11 attacks destroying the TKTS booth underneath the WTC and the South Street Seaport location being destroyed by Hurricane Sandy.
For this new booth the Lincoln Center is in no rush to get the space back, so it is assumed that if the location is successful, they will leave it be and just make it permanent. One look at the quality of the construction of the installation and it will tell you that this booth was designed to be permanent, with TDF sinking over $2.1 million into its construction, so if it were to be a temporary structure, that would be over $2300 in daily costs, which would far outweigh any revenue generated by the location.
A Treat For Locals
Similarly, Lincoln Center is currently charging rent for the space used by TDF at $5000 per month, but would waive that if the TKTS booth starts offering more Lincoln Center shows at its booth, in a quid-pro-quo deal. Time will tell if this new location actually generates new revenue, or just siphons off locals that would have gone to Times Square in the first place.
Clearly, very few tourists are finding their way up to this new booth, so the Lincoln Center TKTS booth could be a Godsend to Upper West-Siders, keen for a discount to a Broadway show, but tired of the tourist hell that Times Square has become.

Discount Broadway Tickets
---
---