Roundabout Theatre Company's Picnic Wraps Up
Sebastian Stan In The Roundabout Theatre Company's Picnic Wraps Up At The American Airlines Theatre With Critical Acclaim But Disappointing Box Office
---
"Picnic" Concludes Its Limited Run On Broadway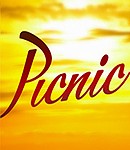 The Picnic ends today. Roundabout Theatre Company's well-received production of the William Inge classic concludes its limited run at the American Airlines Theatre.
The play -- which is about the dreams, regrets, and romantic entanglements of small town residents during a sweltering Labor Day -- stars Sebastian Stan (TV's Once Upon a Time) as a handsome drifter who stirs up a lot of trouble during his brief visit.
The Talented Cast
His co-stars include Maggie Grace, Elizabeth Marvel, Mare Winningham, Ben Rappaport, Reed Birney, and Ellen Burstyn. Picnic is best known by many people for its 1955 Oscar-nominated film adaptation starring William Holden and Kim Novak.