Peter and the Starcatcher Introduces Post-Show Talkback Series
---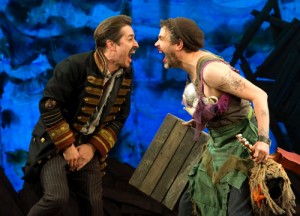 Broadway's Peter and the Starcatcher has begun holding post-performance talkbacks on Wednesday nights. With these post-show discussions, the multiple Tony Award winning play is offering audiences a chance to be drawn further into the wacky universe of the show, which is a telling of the origins of Peter Pan and his world. The next scheduled
Peter and the Starcatcher
talkback will be held following the Wednesday, October 10 performance.
The discussion will feature the participation of Sandy Duncan, the sprightly actress known for her starring role as the Boy Who Wouldn't Grow Up in the 1979 Broadway production of the musical Peter Pan. Joined by Peter and the Starcatcher's Adam Chanler-Berat, Celia Keenan-Bolger, and Matthew Saldívar, Duncan will talk about the challenges of taking on an iconic role on the Broadway stage. The following week's post-show discussion, to be held after the Wednesday, October 17 performance, will focus on Peter and the Starcatcher's design.
Set designer Donyale Werle and costume designer Paloma Young, who both earned Tonys for their efforts, will talk about their creative processes. They will be joined by the play's director, Roger Rees, and playwright Rick Elice.