Peter and the Starcatcher Celebrates Pirate Day With Free Ticket Offer
---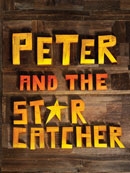 "International Talk Like a Pirate Day," founded by humor columnist Dave Barry, is coming up on September 19, and the Peter Pan-themed show
Peter and the Starcatcher
has come up with a unique way to celebrate it. In tribute to the play's own pirate, Black Stache,
Peter and the Starcatcher
will have a special "Stache Day" on that date. In honor of "Stache Day,"
Peter and the Starcatcher
will give out free tickets for that night's performance to the first 100 people wearing mustaches (they can be real or fake) who line up at the Brooks Atkinson Theatre (located at 256 West 47th Street) on the morning of September 19.
The tickets will be distributed at 10:00AM, and only one ticket can be claimed per person. To encourage fans to come bearing their most impressive mustaches, Dave Barry and Ridley Pearson (the authors of the book on which Peter and the Starcatcher is based), as well as the actor who plays Black Stache, Matthew Saldivar, will choose the three best mustaches. Those people will each be given a pair of tickets, plus a backstage tour at the performance that evening.