"Penn & Teller on Broadway" Opens at the Marquis Theatre on Broadway
Penn And Teller On Broadway Opened On July 12, 2015. Reviews And Box Office Are Good But Not Outstanding, With Room For Growth.
---
Famous Vegas Magician Duo On Broadway For Limited Engagement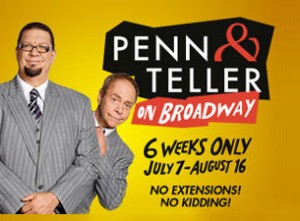 Penn & Teller on Broadway played its opening night performance at the Marquis Theatre. This famous magician duo has been in residence at the Rio Hotel and Casino in Las Vegas for 14 years, and it is a rare treat for them to come to Broadway.
In this case, they were able to swing a quick engagement just over a month in New York. Penn, whose full name is Penn Jillette, is always the one who talks onstage, whereas Teller, who just goes by the single name Teller, is mute onstage.
"Penn & Teller" Incorporate Tech In Their Magic
In this classic reimagining of their act, they incorporated many of the most famous magician tricks, such as pulling a rabbit out of a hat, and sawing a woman in half. They also incorporated the use of technology, at one point asking an audience member to videotape a certain trick so that it can be projected on a large screen for the entire audience to see.
In an interview, Penn explained how this New York engagement is an opportunity for them to make their act a little more intellectual, in an effort to appeal to a New York audience rather than the usual Las Vegas crowd. This show is directed by John Rando, who has also directed Broadway shows including On the Town, A Christmas Story: The Musical, and Urinetown.
A Mixed Review By The New York Times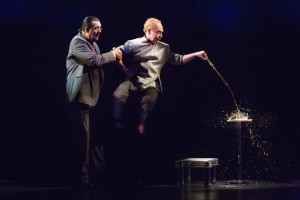 In Ben Brantley's review of Penn & Teller on Broadway in The New York Times, he did justice to the profundity with which Penn and Teller have infiltrated themselves into the contemporary American cultural mindset. The review begins by explaining that the duo has been performing together for 40 years, and yet they seem as fresh and relevant as ever.
This is partly due to the fact that the magicians, while holding down their gig in Las Vegas for 14 years, also have made several television shows that have solidified their inclusion in the continued cultural zeitgeist.
Reliable Acts Lack Creativity
For example, they had a long-running series on Showtime called Penn and Teller: BS, and more recently they began a new show called Penn and Teller: Fool Us on ITV in Britain and the CW in the U.S. In Brantley's review, in addition to remarking on this wide reach of the famous magicians, he also commented that their acts were not entirely new or surprising.
While some may have appreciated the relatability of the common acts such as pulling a rabbit out of a hat, the choice also bespeaks a lack of creativity.
A Fairly Successful Start At The Box Office
In the first two weeks of performances, which are the only two weeks of box office figures that have been reported thus far, Penn & Teller on Broadway show a significant increase. In the first week, the week ending July 12, 2015, the show brought in $1,075,289, which represented 62.40% of its gross potential.
In the second week, the week ending July 19, 2015, the show saw an increase of $150,111, bringing the weekly gross to $1,225,400, which represents 71.11% of the show's gross potential. This past week, the average audience capacity was 70.0%, which is a decrease from the first week's average audience capacity of 78.6%.
"Penn & Teller" Prove To Be Box Office Draw
However, the average paid admission went up to $120.37 this week from $114.64 the week before, resulting in an overall increase in ticket sales for this past week. Overall, it is clear that Penn & Teller are a major box office draw, even as visitors to New York from their usual home of Las Vegas, and that as word of mouth spreads, the box office will most likely continue to creep upwards.
Discount Broadway Tickets
---
---