"Penn & Teller on Broadway" Begins Previews
Penn And Teller Return To Broadway For The First Time In 15 Years, With Old And New Tricks At The Marquis Theatre For Limited Engagement.
---
Famous Magician Duo Returns For A Broadway Engagement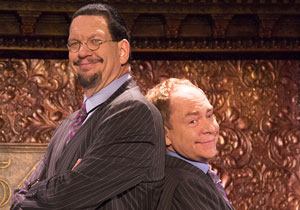 On July 7, 2015, Penn and Teller on Broadway began previews at the Marquis Theatre. The show is scheduled for a limited engagement to conclude on August 16, 2015. The performance is directed by John Rando, who has directed many shows on Broadway including the current revival of On the Town, A Christmas Story: The Musical, The Wedding Singer, Urinetown, and A Thousand Clowns.
The duo – whose full names are Penn Jillette and Teller (Teller goes by just the one name) – has been performing together for over 40 years.
Penn & Teller Haven't Performed Together On Broadway Since 1991
However, they haven't performed on Broadway together since 1991, with their show The Refrigerator Tour. One of the reasons for the long hiatus is that they have strict contracts with the Rio Hotel and Casino in Las Vegas, which is understandably reluctant to let them take even seven weeks off from their regular performing five nights a week to do the Broadway show.
Penn Jillette told Entertainment Weekly that when you're having success in Las Vegas, Las Vegas wants to keep you there. Therefore, the negotiation just to take this break for New York took 15 years to complete, even though they wanted to return to the Big Apple the moment they left.
Old Tricks And New Nutty Ideas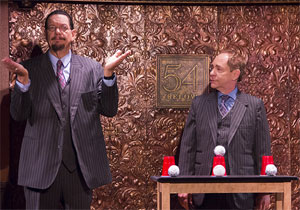 The duo reportedly works very hard on their bits, even though they appear to be effortless on stage. For example, Teller revealed in an interview that they have a new bit for this show where they use the song "I'm a Little Teapot," where Penn picks up Teller and pours tea out of him like a teapot.
Even though it will be quick in performance, they said they have been working on that new trick for two years and three months. This New York run is an opportunity for Penn and Teller to reconfigure their act for a different audience.
Adding A little More Intellectual Thought
Though America has become more homogeneous over the years, Penn mentioned that he believes the audiences in New York are a little more intellectual, and a little more interested in political content. Although their show will not enter the realm of the political, they will be taking the opportunity to put a little more intellectual thought into this show.
They will be performing one of their oldest tricks – Needles – where Telle eats a fistful of needles and some sewing thread, and then pulls it out of his mouth with the needles threaded. Furthermore, they are bringing back one of the oldest tricks in magic, but one which they say is deceptively hard to do: pulling a rabbit out of a hat.
Sardi's Caricature And "Fool Us" TV Show
Just last week, Penn and Teller were welcomed into the Broadway community the best way we know how: they were given their very own framed caricature to be hung on the walls of Sardi's Restaurant. They had a small signing ceremony at the classic Broadway eatery on July 1, 2015.
Now theatergoers can enjoy their smiling faces alongside all the timeless faces while enjoying their pre or post theatre meal. Furthermore, just one day before previews began for their Broadway show, their television show Penn & Teller: Fool Us began its second season on the CW.
With A Busy Schedule "Penn & Teller" Likely Won't Last Long

In this British-American co-produced television show hosted by Jonathan Ross, Penn and Teller hold a magic competition where magicians line up to show off their best tricks to the duo. Penn and Teller do their best to explain how the trick is done. If they cannot figure it out, the magicians win a five-star trip to Las Vegas where they get to perform as the opening act to Penn and Teller's show at the Rio Hotel and Casino.
On top of this, the duo will be performing their act in the upcoming feature film Sharknado 3: Oh Hell No! With such a busy schedule, it will likely be a long time before they return to Broadway again, so this six-week engagement is an exciting time to catch them live in New York.