Paula Vogel's "Indecent" Earns Rave Reviews on Broadway
Indecent By Paula Vogel And Skillfully Directed By Rebecca Taichman Has Opened At The Cort Theatre To Enthusiastic Rave Reviews On Broadway, And Yet The Box Office Remains Dismal.
---
A Play about the True Story of a Controversial Play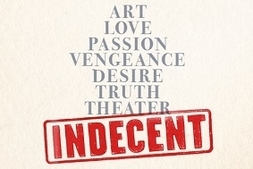 On April 18, 2017, Indecent began previews at the Cort Theatre, where it had been running in previews since April 4, 2017. This is a new play from the esteemed playwright Paula Vogel, who won the Pulitzer Prize back in 1998 for How I Learned to Drive, and yet who is now – almost 20 years later – finally making her Broadway debut. In the meantime, she also served for two decades as the head of the graduate playwriting program at Brown University, where she co-founded the Brown/Trinity Repertory Company along with Oskar Eustis, who is presently the artistic director of the Public Theater, which is in the midst of a string of successes with their Broadway transfers.

She also served from 2008 to 2012 as the Chair of the prestigious Yale School of Drama, where she still teaches as an adjunct professor. Despite this wide-ranging renown from the theatre community on multiple levels, for whatever reason, no producer was willing to take a chance on bringing one of her plays to Broadway – until now. Indecent, which is co-created and directed by Rebecca Taichman, is based on a true story about a Jewish play that faced controversy upon its production in 1923 due to its lesbian subject matter.
Broadway Show Earns a Nomination
The play world premiered at the Yale Repertory Theatre in 2015, followed by a production at the La Jolla Playhouse, and then followed by the New York premiere at the Vineyard Theatre in spring 2016, where it was nominated for the Lucille Lortel Award for Outstanding Play.
Unanimously Rave Reviews for "Indecent"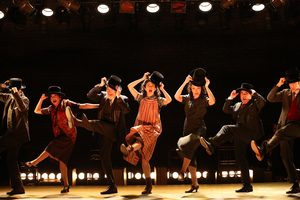 Not every play that earns buzz Off-Broadway can sustain its praise on Broadway. Nonetheless, Indecent won over all the major critics who saw it in its largest production yet. Ben Brantley from The New York Times called it a "thoughtful evocation" of the times surrounding the play's events, concluding that its fresh energy and sincerity makes it a winner. Adam Feldman from Time Out New York gave it five stars out of five, finding it deeply moving and calling it an elegant tribute to history.
Linda Winer from Newsday called it extraordinary, remarking that no play ever before has so deeply touched upon the rich emotions involved in the topics of history and theatre, anti-Semitism and homophobia, as well as human passion. Jeremy Gerard from Deadline spoke poetically about the resonance of this important play, urging theatregoers to run to the Cort Theatre to appreciate the evanescence of this play that pulses from the past to the present with its story of a forgotten Broadway scandal. Finally, Joe Dziemianowicz from the New York Daily News prepared his readers to cry due to the impact of this play, which tells such a stirring story with vibrant theatricality.
Terrible Broadway Box Office Despite Critical Acclaim
In the two weeks of box office figures that have been reported to date for Indecent, the results are absolutely horrific. This is all the more astonishing given the excellent critical reviews. Still, the box office for the following week will be more telling, as that will have allowed for more time for theatregoers to read the reviews in advance of purchasing tickets. It is true that Indecent is a straight play with no stars in a very competitive new season that is just getting off the ground. Nevertheless, these box office numbers are still surprisingly low.
In the last week of reported box office figures, the week ending April 16, 2017, Indecent brought in a weekly gross of $186,188 over eight performances, which represents just 21.32% of its gross potential. The previous week, the first week of previews ending April 9, 2017, the weekly gross was $166,512 over seven performances, which represents 21.80% of gross potential. If the reviews don't jumpstart some serious interest in this production, it might not last very much longer.
Discount Broadway Tickets
---
---