Patti Lupone Concert Now Online
Broadway Star Patti Lupone Recorded A New Concert Showcasing Her Singing Talent That Is Now Available For Online Viewing And Includes An Exclusive Interview
---
Broadway Star Patti Lupone's New Concert Is Available Online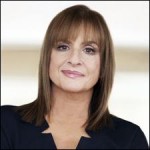 Though her current Broadway role (in David Mamet's play, The Anarchist, closing December 16) is a non-singing one, Patti Lupone can still be seen showing off her pipes in a new concert now available for viewing online. An Evening With Patti Lupone filmed during four shows at Provincetown's Art House this past summer.
The original Evita, Patti Lupone has won two Tony Awards and is beloved by musical theater fans for her incredible voice.
"An Evening With Patti Lupone" Includes Candid Interview
Performer/music director Seth Rudetsky, who accompanied Lupone on piano for the concert and is broadcasting it on his website, said that, "I've always been obsessed with Patti and this concert is a dream come true. She sang so many of her classic songs ... in the original keys! Her voice is flawless."
"I did not expect to have as much fun as I did," said Patti LuPone about the concerts. "It made me feel like I was 20 again, or whatever age I was when I played those parts." An Evening with Patti Lupone, which also includes a candid interview with Lupone, has a running time of 104 minutes.