Pat Benatar and Neil Giraldo Musical Headed to Broadway
A New Musical Featuring The Music And Life Story Of Pat Benatar And Her Husband Guitarist Neil Giraldo Will Come To Broadway.
---
"Love Is A Battlefield" Is Among The Hit Songs To Be Featured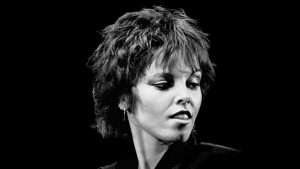 Pat Benatar is a singer-songwriter who has had a lot of success over the course of her long career, with many of her hit songs released in the 1980s. She has won four Grammy Awards and had 17 songs on the Billboard chart, 15 of which made it into the Top 40.
Some of her Top 10 hits include "Love is a Battlefield," "Hit Me With Your Best Shot," "Heartbreaker," and "We Belong." These four songs and more will be featured in a new musical that is aiming for Broadway in 2017.
Untitled Production Follows Jukebox Musical Vein
The jukebox musical will be in the vein of shows like Jersey Boys, which profiles the life of a band while also entertaining audiences with staged versions of their songs. In this case, the story of Pat Benatar's life is inextricable from that of Neil Giraldo, her husband and long-time guitarist.
Benatar and Giraldo married in 1982, following their collaboration on the 1980 song "We Live for Love," which he wrote and she performed, and which became her third single. That same year, Benatar and Giraldo appeared together on the cover of Rolling Stone Magazine. They also have two daughters together, and are still married and live in Los Angeles.
Gary Lennon To Pen Book For The Musical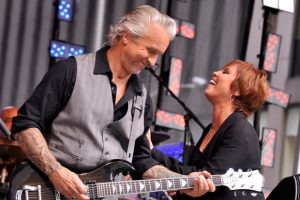 In addition to featuring the songs of Pat Benatar and Neil Giraldo, another major creative team member has been announced. Gary Lennon is a playwright and television writer whose credits include the plays A Family Thing, Blackout, .45, and The Interlopers as well as the series "Orange is the New Black."
Other television credits include "Power" on Starz and a new television drama for Showtime that will star Robert Downey, Jr. The musical is presently untitled, but it may very well go under the name Love is a Battlefield until a better title is found.
Dynamic Duo Teams Up
The show will be comparable to Rock of Ages, but without the schmaltz, as well as On Your Feet!, but with more heart and 80s rock. The musical is to be produced by Jamie Cesa, whose other credits include Pippin, Lombardi, Wishful Drinking, and Kiki & Herb: Alive on Broadway.
While Pat Benatar and Neil Giraldo have been touring together for decades (their present tour continues until the end of August 2016), they have never been involved with a Broadway show before.
A Dramatic Story Marred By Dwindling Success And Health Scares
The story of Pat Benatar and Neil Giraldo will not just be a happy-go-lucky tale of musicians who found love and success. As much as some of their songs have become unforgettable classics, the duo has also had their share of hard times, which should contribute to a dramatically compelling musical.
While their musical success held high in the 1980s, by the 1990s some of this appreciation was dwindling. In addition, on their 35th anniversary tour, Giraldo had a health scare; his left eye ultimately needed emergency surgery. Still, even though that slowed them down for a brief while, they were not stopped for long.
Details Still To Be Determined
Most recently, they have been touring with Melissa Etheridge. Furthermore, in 2010, Benatar released a memoir called Between a Heart and a Rock Place which was published by HarperCollins, and which became a New York Times bestseller.
Therefore, there will likely be a great deal of excitement surrounding this musical, although there is much more information – such as casting, title, and key creative team – that has yet to be announced.
Discount Broadway Tickets
---
---