"Paramour" - Cirque du Soleil's Broadway Experiment
Cirque Du Soleil's First Show Tailored For Broadway, Paramour, Begins Preview At The Lyric Theatre. So Far It Is Performing Very Well At The Box Office.
---
Internationally Renowned Company's First Show Tailor-Made For Broadway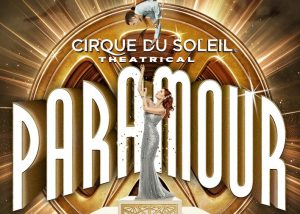 This past week, Paramour began previews at the Lyric Theatre. This historic production is not the first time that the internationally renowned circus troupe Cirque du Soleil has presented a show on Broadway, but it is the first time that the company developed a show specifically for the Broadway marketplace.
In fact, the company created an entirely new department devoted to this effort called Cirque du Soleil Theatrical. In 2010, Cirque du Soleil presented their show Banana Schpeel at the Beacon Theater, but the doomed production closed after only six weeks.
Confusion Over Appropriate Genre
The reason was attributed to the show's confusion over its genre – while Cirque is well known for its incredible spectacles, versatile performers, and improvised feel, this was an attempt to include a conventional plot.
With the flop of that $20 million production – the first ever major flop in Cirque's history – the company reconsidered their approach to bridging their signature style with the theatrical, especially in New York City where audiences have high expectations for theatrical fare. Therefore, years in development led to Paramour, which integrates the conception and creative team of both Cirque du Soleil and Broadway.
Blending The Largess Of Cirque Du Soleil With Intimate Narrative Storytelling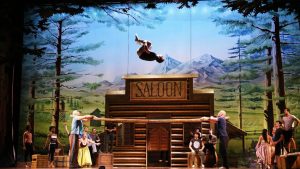 With a 38-member cast of performers, and an exciting creative team from all over the world, Paramour is said to be the most internationally diverse production ever to originate on Broadway.
The director of Paramour is the French stage director and choreographer Philippe Decouflé, who also wrote and directed the Cirque du Soleil show Iris, an $100 million production that played in Los Angeles from 2011 to 2013. Meanwhile, the creative guide for the show is Jean-François Bouchard, who is the Chief Creative Content Officer and Director of Creation for Cirque du Soleil.
Andreas Carlsson's Song Writing Success
Furthermore, the co-composer is Andreas Carlsson, the Swedish five-time Grammy nominee and two-time Emmy Award winner whose writing credits include songs for Britney Spears, the Backstreet Boys, Celine Dion, 'N Sync, LeAnn Rimes, Bon Jovi, Hilary Duff, Lindsay Lohan, Carrie Underwood, Clay Aiken, and Ricky Martin. Carlsson wrote the show's title song, and also collaborated with the team of Bob & Bill, made up of Guy Dubuc and Marc Lessard, who have previously composed for the Cirque du Soleil shows Midnight Sun, Totem, Amaluna, Kurios – Cabinet of Curiosities, Joyà, Allavita!, and Toruk – the First Flight.
Furthermore, the design team is an amalgam of go-to Cirque du Soleil designers, and those who have experience creating design for story-driven narratives.
A Carefully Chosen Cast Of Actors, Singers, Dancers, And Acrobats
As for the cast, the lead role of Indigo James is played by Ruby Lewis making her Broadway debut, although she has been on the national tours of Gypsy, Grease, Jersey Boys, and We Will Rock You. She is joined by Jeremy Kushnier (Jesus Christ Superstar) as A.J. Golden, and Ryan Vona (Once) as Joey Green.
In order to combine the cast of acrobats and actors, the producers of Paramour had to come to a special agreement with Actors' Equity Association and the Variety Artists union, AGVA. While the show was listed on Equity's "Do Not Work" page for weeks, the parties eventually came to an agreement that allowed 16 of the performers to be represented by Equity, while 22 of the circus artists, aerialists, and acrobats are represented by AGVA.
"Paramour" Shows Promise In The Box Office
This is a major step forward for Cirque du Soleil, whose attempts to enter the Broadway marketplace are no longer thwarted by this powerful union. Paramour is also doing very well at the box office, with the most recent weekly gross of $1,018,942 over six performances, which represents 88.63% of the show's gross potential. It will open May 25, 2016, at which point the reviews will disclose whether the show is also a critical success
Discount Broadway Tickets
---
---