"Our Mother's Brief Affair" and "Noises Off" Open
Our Mother's Brief Affair And Noises Off Both Opened At Broadway Venues For Not-For-Profit Theatre Institutions: Manhattan Theatre Club And Roundabout Theatre Company
---
Manhattan Theatre Club Production "Our Mother's Brief Affair" Opens on Broadway
On January 20, 2016, Our Mother's Brief Affair opened at the Samuel J. Friedman Theatre, the Broadway venue for the non-profit theatre institution Manhattan Theatre Club. A new play by Richard Greenberg (The American Plan, Three Days of Rain, The Violet Hour), the show is directed by Lynne Meadow, the artistic director of MTC, and had been running in previews since December 28, 2015. Meadow and her company came under criticism earlier this season for MTC's decision to produce a season of plays almost entirely by men. At the time they revealed seven of the eight shows, all were by men, and only one – Our Mother's Brief Affair – was directed by a woman: Lynne Meadow herself.
Quickly after this uproar, MTC released the eighth show, a play both written and directed by women. Upon its opening night, Our Mother's Brief Affair received mixed reviews. Ben Brantley of The New York Times was on the fence, praising the lead performance of Linda Lavin, but deeming the play untethered and having faltering confidence. Of the major critics, only Adam Feldman of Time Out New York gave the show a very positive review, relishing the classic Jewish mother performance of Lavin as well as Meadow's uncannily ambiguous direction.
Roundabout Theatre Company's "Noises Off" Also Up and Running
Prior to the opening of Our Mother's Brief Affair, another non-profit theatre company – Roundabout Theatre Company – opened a play at one of its two Broadway venues, the American Airlines Theatre. Noises Off, a backstage, door-slamming comedy by Michael Frayn, is presently being revived for the second time since its Broadway premiere in 1983. Directed by Jeremy Herrin (Wolf Hall Parts One and Two), the play stars Andrea Martin (Pippin), Campbell Scott (Ah, Wilderness!), Tracee Chimo (The Heidi Chronicles), Daniel Davis (La Cage aux Folles), David Furr (The Importance of Being Earnest), Kate Jennings Grant (The Country House), Megan Hilty ("Smash"), Rob McClure (Chaplin), and Jeremy Shamos (Glengarry Glen Ross).
With this exciting starry cast, the show received a series of mostly rave reviews. Charles Isherwood of The New York Times deemed the show a Critics' Pick, calling the production "altogether hilarious." Jeremy Gerard of Deadline also loved the show, especially praising the performances of Megan Hilty and Andrea Martin. David Rooney of The Hollywood Reporter calls Megan Hilty's performance a "sparkling comic caricature," and Terry Teachout of The Wall Street Journal praises the show's success in light of the difficulty of producing a classic farce. Only David Cote from Time Out New York was on the fence, calling Frayn's play ingenious and Herrin's direction precision-timed, and yet found himself not laughing very much.
"Noises Off" Getting By, and "Our Mother's Brief Affair" Struggling, at the Broadway Box Office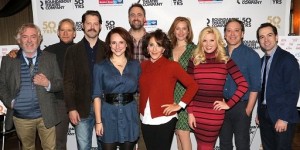 In terms of financial figures, Noises Off is performing to moderate but not outstanding success at the box office. In the last reported week of box office figures, the week ending January 17, 2016, the play brought in $382,252, which represents 58.56% of its gross potential. Since beginning previews, the highest weekly gross of the run thus far took place in the week ending January 3, 2016, with the figure of $438,491, or 67.18% of its gross potential. Nevertheless, this past week's average audience capacity was 98.9%, demonstrating that Roundabout is offers quite a few discounted tickets, between its subscribers and one-off discount ticket buyers.
Noises Off is scheduled to conclude its run on March 6, 2016. On the other hand, Our Mother's Brief Affair, is having a tougher time attracting ticket buyers. With less of a starry cast, beginning previews after the holiday rush, and receiving less positive reviews, the show has not managed to bring in more than $187,813 across eight performances, which was it weekly gross this past week ending January 17, 2016. With a top ticket price of $140.00, the average paid admission was $40.03. Still, the average audience capacity was 90.2%. Therefore, Our Mother's Brief Affair is discounting to an even steeper degree than Noises Off, but with these low grosses, it may have difficulty sustaining to end of its run, which is also scheduled for March 6, 2016.