Oscar Winner Lupita Nyong'o Stars in "Eclipsed" Now in Previews
Eclipsed, A Story Of Sisterhood Set Against The Liberian Civil War, Began Previews At The John Golden Theatre Starring Lupita Nyong'o In Her Stellar Broadway Debut
---
Acclaimed Production Transfers to Broadway from Public Theater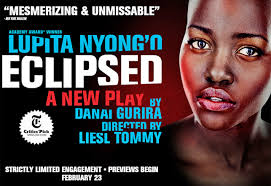 This past week, Eclipsed began previews at Broadway's John Golden Theatre. The official opening night is scheduled for March 6, 2016, and the play is set to run for a limited engagement until June 19, 2016. Eclipsed comes to Broadway after a very well-received run Off-Broadway at the Public Theater, which is the same theater that originated the mega-hit production Hamilton and last year's Tony Award winning Best Musical Fun Home, as well as many other excellent transfers over the course of its history.
Unlike Hamilton and Fun Home, Eclipsed is a straight play that will run for a finite amount of time. On the surface, its biggest attraction is one of the actors in the production, Lupita Nyong'o, who plays a character referred to as "The Girl." Nyong'o makes her Broadway debut in this production, but she is already a household name, having won the Academy Award for Best Supporting Actress in 2013 for her performance in 12 Years a Slave.
A Closer Look at this Actress
Following this win, Nyong'o became the sixth black woman ever to win this award, as well as the first Kenyan actress and the first Mexican actress; she is of mixed heritage. Furthermore, she began to model for high profile fashion brands, and was named "The Most Beautiful Woman" of the year in 2014 by People Magazine, as well as "Woman of the Year" by Glamour Magazine that same year.
A Story of Survival Set in Post-Colonial Africa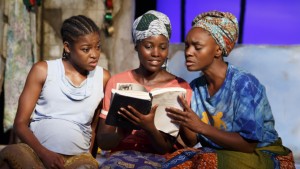 While Nyong'o may be the most famous actor in Eclipsed, she is one member of an ensemble cast that also includes Pascale Armand, Akosua Busia, Zainab Jah, and Saycon Sengbloh. The play was written by Danai Gurira, and it is directed by Liesl Tommy, with original music by Broken Chord. Eclipsed takes place during the Liberian Civil War, and deals with the captive wives of a rebel officer who band together in sisterhood despite their shared husband.
When a new girl (Nyong'o) arrives, the balance of their lives is tested. In a hostile and horrific world outside of their control, these women find the only means of survival they can, by discovering their inner strengths and bonds with one another. The artistic director of the Public Theater, Oskar Eustis, has called the play "vitally important," shedding light on the wartime horrors in Africa while also telling a heartbreaking and life-affirming story of womanhood.
Successful Actress Makes Her Broadway Debut
Lupita Nyong'o comes to this production with a history: even before her role in the Off-Broadway production, she served as an understudy in a regional production at the Yale Repertory Theatre, where she attended graduate school. She has always wanted to return to the role, and due to her newfound stardom, has allowed the play to find a larger audience on Broadway.
An Uncertain Start at the Broadway Box Office
In its first partial week of seven performances, Eclipsed brought in $400,315, which represents 55.8% of its gross potential. Despite a fair amount of discounting, as demonstrated by the average ticket price of $73.30, the audience was almost completely full, with an average capacity of 97.3%. Overall, this past week was a slow one on Broadway, so it is difficult to determine this show's financial prospects from this first week alone.
After the reviews come out this coming weekend, box office will most likely pick up. The reviews are expected to be very positive, as it is a direct transfer production from the acclaimed Off-Broadway run with the cast intact, and Nyong'o is an unqualified star of beloved status, due to her breathtaking Oscar-winning performance, as well as her trailblazing career.
Discount Broadway Tickets
---
---