"Once Week" on Broadway Starts August 20
Broadway Introduces Once Week At Bernard B. Jacobs Theatre From August 20-23, 2013, Win Free Tickets, Enjoy Events, And Experience The Romantic Charm Earning The Show Eight Tony Awards
---
Broadway Introduces "Once Week"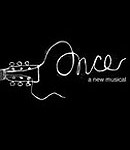 The Broadway musical Once is dubbing this coming week "Once Week". From August 20-23, the show will offer special prizes and free events. But most importantly, Once will be giving away 20 free tickets through its lottery for its evening performances on those dates. To enter the Once lottery, arrive at the Bernard B. Jacobs Theatre two and half hours before the performance to put your name into the drawing for tickets.
The names will be drawn two hours prior to the performance. Once tells the romantic story of two people who connect through music. It won eight Tony awards last year, most notably the Best Musical prize. The popular show also has a production running in London, and a national tour is preparing to launch. Visit oncemusical.com for more information.
Discount Broadway Tickets
---
---