"Once" to Close on January 4, 2015
On January 4, 2015, Once will conclude its Broadway run. The show swept up at the 2012 Tony Awards and has continued to run profitably.
---
The Little Irish Musical That Could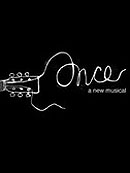 The 2012 Tony Award winning Best Musical Once has scheduled its closing date: January 4, 2015. This marks the culmination of a true success story for this simple show dealing with complex emotions. The journey began with the 2007 musical film of the same name that was written, composed, and performed by Glen Hansard and Marketa Irglova.
The stage adaptation with book by Enda Walsh, music and lyrics by Hansard and Irglova, direction by John Tiffany, and movement by Steven Hoggett began its New York life Off-Broadway at the East Village's New York Theatre Workshop.
"Once" Wins Eight Tony Awards
Ecstatic reviews allowed the show to transfer to Broadway's Bernard B. Jacobs Theatre, where it began performances on February 28, 2012 and opened on March 18, 2012.
It entered a competitive season filled with large-scale musicals with brand recognition such as Evita, Porgy and Bess, Newsies, and Nice Work If You Can Get It. Nevertheless, Once stood out from the pack due to its relatable story, brilliant score, beautifully subtle performances, and magical orchestral staging, and it took home eight Tony Awards, including the coveted honor of Best Musical.
The Future Beyond Broadway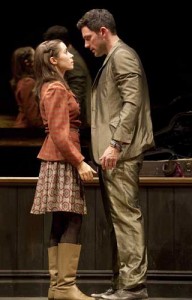 In addition to its New York productions, Once began its run in London's West End in March 2013, and it is scheduled to run there until March 2015. That followed a pre-West End run in Dublin, Ireland in February 2013 where it received much acclaim.
Furthermore, the United States national tour began in October 2013, and it is scheduled to continue until August 2015. Recently, on September 26, 2014, a production of Once opened in Melbourne, Australia, where it is scheduled to run until November 16, 2014.
International Engagements Scheduled
Also in late November of this year, the cast from the U.S. tour will fly to Japan for an engagement of several weeks. Though this will be in English, there are future plans for a Japanese language version as well. The first foreign language production of Once will commence in Seoul, South Korea in December.
Furthermore, a production is scheduled to begin in February 2015 in Toronto, Canada. Other countries on the horizon for Once include Holland, Greece, Thailand, Brazil, Sweden, the Czech Republic, and Ireland – the last two of which directly relate to the cultural exploration in the show itself.
With Decreasing Grosses, Closing Was Only A Matter Of Time
After cleaning up at the Tony Awards, Once regularly brought in over one million dollars each week in the middle and end of 2012. In 2013, the show's grosses began in the $900,000 range, soon decreased to $800,000 and then $700,000, and then fluctuated between the $500,000 and $700,000 range through to the beginning of 2014.
Over the course of this year, however, grosses have been more in the $400,000 to $500,000 range per week, and the show even reached the low of $355,062 in the week ending September 28, 2014. On October 7, 2014, the show's closing date was announced.
Capitalization Recouped And Earning Profits
Though the musical has already recouped its capitalization and has been earning profits, with such low weekly grosses it has become difficult for Once to meet its weekly running costs and justify remaining open. However, with many other profitable productions in the pipeline, the producers and creators are sure to continue to profit from their fantastic achievement.
And it is also very likely that grosses will rise in the last few months of the run, as ticket buyers realize this may be their last chance to see Once on Broadway anytime soon.