"On Your Feet!" Opens at the Marquis Theatre on Broadway
On Your Feet! Opened At The Marquis Theatre On Broadway, Earning Some Excellent Reviews With Some Mixed Reviews, And Bringing In Improving Box Office Crossing The Million Dollar Mark
---
The Story of Emilio and Gloria Estefan Will Get You "On Your Feet!"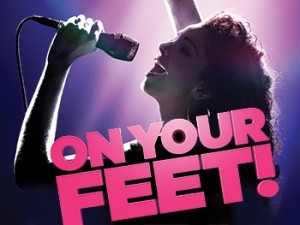 This past week, On Your Feet! had its opening night performance at the Marquis Theatre. It had been running in previews since the first performance on October 5, 2015. The musical is presently scheduled for an open-ended run, as many musicals opt to do in hopes for a long run of many years. With a book by Alexander Dinelaris (Birdman film), featuring music produced and recorded by Emilio Estefan, Gloria Estefan, and Miami Sound Machine, On Your Feet! is directed by Jerry Mitchell (Kinky Boots, Legally Blonde), and choreographed by Sergio Trujillo (Leap of Faith, The Addams Family, Memphis).
The musical stars Ana Villfañe as Gloria Estefan in her Broadway debut, and Josh Segarra (Lysistrata Jones) as Emilio Estefan. The show tells the story of international music star Gloria Estefan and her record producer husband Emilio Estefan, following the duo from their early life in Miami, to Gloria's serious spinal injury, to their battles to achieve international recognition and stardom through music. The musical features songs such as "Conga," "Rhythm is Gonna Get You," "1-2-3," and "Live for Loving You."
Positive Reviews With a Few Mixed Reviews As Well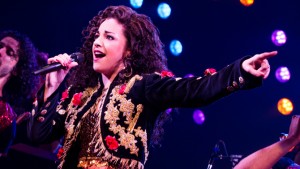 Upon the reviews hitting the press, Jeremy Gerard from Deadline fell in love with the show, saying "A star is born" with the new jukebox musical telling the story of the children of Cuban immigrants to Miami becoming global hitmonsters. Marilyn Stasio from Variety also loved the show, calling it a surefire audience pleaser and calling Ana Villafañe a knockout in the role of Gloria Estefan.
Elisabeth Vincentelli from the New York Post was equally enthusiastic, saying that the show is bringing the fun back to Broadway in an otherwise dour season, and saying it is a pleasure to welcome On Your Feet!, the rare show with an exclamation mark at the end that actually earns it. Charles Isherwood from The New York Times was not quite so impressed, finding the show half-formulaic and half-original, but admitting it is an undeniable crowd pleaser. Adam Feldman from Time Out New York also was on the fence, saying there's not much to dislike about On Your Feet!, but that there's not much to inspire much of a reaction either way.
Pretty Good Broadway Box Office That Has Crossed the Million Dollar Mark
The box office for On Your Feet! cannot be considered knocked out of the park like, say, Hamilton, but the numbers have been increasing as positive word of mouth spreads. In the last reported week of box office figures, the week ending November 8, 2015, On Your Feet! crossed over into the million dollar range for the second time, bringing in a weekly gross of $1,070,197, which represents 68.94% of its gross potential.
Two weeks prior, the show also crossed the million dollar mark, bringing in a weekly gross of $1,096,202, which represented the gross potential of 63.27%. With a maximum gross potential of $1,552,352 over the course of eight performances, the show did has room for growth. However, it is proving to be a crowd pleaser and earned enough positive reviews to imply that its success will not be very short lived.