"On The Town" Begins Previews at The Lyric Theatre
On The Town began previews at the Lyric Theatre. This is its third Broadway revival, an old-fashioned musical set in 1934, but may have difficulty selling tickets
---
An Ambitious Production in the Lyric Theatre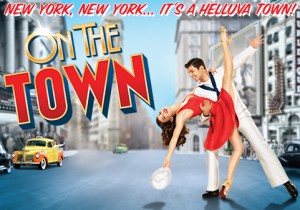 On September 20, 2014, the 2014 revival of
On the Town
began previews at the presently named Lyric Theatre. This venue has undergone many transitions in its storied history, and was most recently home to the infamous
Spiderman: Turn Off The Dark
, when the theatre was named the Foxwoods. Newly purchased by the London based theatre impresario Ambassador Theatre Group, the now minted Lyric Theatre has welcomed
On the Town
onto its stage. This musical, with a score by Leonard Bernstein and book and lyrics by Betty Comden and Adolph Green, originally premiered on Broadway in 1944. This will be its third revival, with previous Broadway productions taking place in 1971 and 1988, in addition to the 1949 film version and several British productions. In bringing
On the Town
to the Lyric, the producers Howard and Janet Kagan were taking an enormous risk. If the $60 million
Spiderman
, with its brand name recognition and notoriously spectacular flying acts could not fill the 1,938 seats of the huge venue, then a little known old-fashioned musical revival may have a tough time indeed. In fact,
On the Town
was a last minute booking, when the previously intended tenant – the much more spectacle filled
King Kong
– had to drop out.
A Good Old-Fashioned New York Story
Set in 1934,
On the Town
is the story of three sailors who have 24 hours of shore leave in New York City. In addition to seeing the sites, Ozzie, Chip, and Gabey have their intentions set on finding three special ladies to spend the time with. One of the early numbers in the show is the well known number
New York, New York
, with lyrics including "New York, New York, it's a helluva town, the Bronx is up but the Battery's down, the people ride in a hole in the ground…" It is not long before Chip find his lady, a tough talking cab driver named Hildy, who brags in an upbeat number that she "can cook, too" (
I Can Cook, Too
). Meanwhile, Ozzie finds himself at the Modern Museum of Science, where he meets his beloved Claire de Loone. However, Claire is engaged to be married to a famous judge. Gabey is having more difficulty finding a lady friend, until he stumbles upon Ivy Smith taking singing lessons at Carnegie Hall. Needless to say, the three couples encounter many twists and turns, but ultimately end up happily ever after, or at least with the firm possibility of it.
A Cast of Broadway Performers, But Not Stars
The 2014 production is directed by John Rando, who most recently helmed
A Christmas Story The Musical
and
The Wedding Singer
on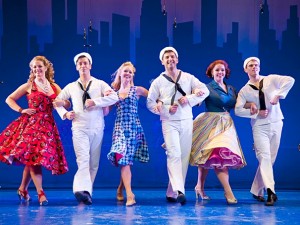 Broadway. This is the first choreography credit on Broadway for Joshua Bergasse, but he appeared onstage in
Hairspray
and
The Life
. Respectively, Ozzie, Chip, and Gabey are played by Clyde Alves (
Bullets Over Broadway
,
Nice Work If You Can Get It
), Jay Armstrong Johnson (
Hands on a Hardbody
,
Catch Me If You Can
), and Tony Yazbeck (
Gypsy
,
A Chorus Line
). Their female counterparts Claire, Hildy, and Ivy are played, respectively by Elizabeth Stanley
Million Dollar Quartet
,
Cry Baby
), Alysha Umphress (
Bring It On The Musical
,
On a Clear Day You Can See Forever
), and Megan Fairchild, making her Broadway debut. Though these six lead performers have spanned the spectrum of Broadway musicals in the last few years, none of them are what you could fairly call household names. Therefore, this production certainly has a tough road ahead of it in terms of attracting enough ticketbuyers to make the show last more than a month or two.
On The Town
officially opens on October 16, 2014, when the reviews will help determine its fate. Unfortunately, even the most laudatory reviews may not be enough to keep this show on its feet.