"Oh, Hello on Broadway" Opens to Mixed Reviews
Nick Kroll And John Mulaney Are On Broadway In Oh, Hello, Directed By Alex Timbers At The Lyceum Theatre, Now Open And Running Until January 2017.
---
Nick Kroll And John Mulaney Turn Geriatric For Laughs
This past week, Oh, Hello on Broadway had its official opening night at the Lyceum Theatre. The comedic two-hander had been running in previews since September 23, 2016, and it is scheduled to keep running until January 8, 2017. The show is less of a play than a comedic sketch, inflated to inhabit the Broadway stage.
Nick Kroll is a comedian best known for Kroll Show on Comedy Central, as well as film such as Adult Beginners, Sausage Party, and My Blind Brother. John Mulaney also has his roots deeply entrenched in the comedy world, with credits including Mulaney on Fox, as well as a long stint as a writer on Saturday Night Live.
An Idea Conceptualized In Early 2000s
Both comedians are also well-versed in stand-up and have appeared in many television guest roles and comedy shows. Oh, Hello dates back to the early 2000s, when the duo began workshopping the concept for the show at a comedy club called Rififi, which has since shuttered its doors.
In the show, Nick Kroll plays Gil Faizon, and John Mulaney plays George St. Geegland, both of whom are septuagenarians who wear turtlenecks, eat tuna fish, and fall into stereotypes of elderly Upper West Siders, while also bringing a new comedic flair to the concept. The show gained such a following, egged on by its inclusion in Kroll Show, that the decision was made to bring it to Broadway.
The New York Times Raves, With Others Mixed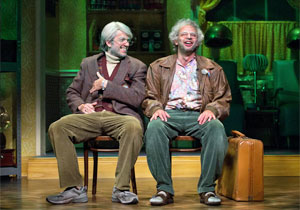 Upon the opening night of Oh, Hello, Ben Brantley of The New York Times wrote a rave review, finding great pleasure in the company of these shabby roommates whom he calls "stupendously entertaining."
Likewise, Adam Feldman from Time Out New York loved the show, enjoying the high-level tag team comedy, and harking to comedic greats such as Elaine May, Mel Brooks, Mike Nichols, and Carl Reiner. Matt Windman of AM New York was also a big fan, calling it eccentric and enjoyable, and relishing in the freethinking direction of Alex Timbers.
Good For Laughs But No Story
Still, there was not unanimous consent regarding the unmissability of this production. Jesse Oxfeld of Entertainment Weekly was on the fence, admitting that Kroll and Mulaney are funny men, and that the script is well written for laughs, but that ultimately the feat was unambitious, with no real storyline and few big comedic moments.
There were even some critics who were appalled by the show, such as Linda Winer of Access Atlanta, who began her review with the rhetorical question of Oh, dear, what is Oh, Hello doing on Broadway? She calls it uneven, and does not enjoy what she deems the "shaggy ridiculous." In any case, in entering the theatre with expectations of unpretentious comedy, rather than Broadway majesty, Oh, Hello should not disappoint.
Middling Box Office With Little Sign Of Improvement
In the last reported week of box office figures, the week ending October 16, 2016, Oh, Hello brought in a weekly gross of $464,656, which represented 62.41% of its gross potential. With a top ticket price of $248.00, the average paid admission was $74.01, and the audience was filled up to an average of 86.1% of its capacity.
Overall, throughout the run thus far, the percentage reached of gross potential averaged to 66.51%. This past week occurred after the reviews were released after opening night. Therefore, it does not appear that this show is destined for sell-out hit status. Still, with such low running costs, it may have a chance of breaking even, although that is not likely given the mediocre box office.