Off-Broadway's The Last Five Years Cast Perform at B&N
Off-Broadway Musical The Last Five Years Will Perform At The Upper East Side Barnes & Noble Where The Cast Will Sign Copies Of Their Newest Recording
---
Off-Broadway Musical "The Last Five Years" Performs at Barnes & Noble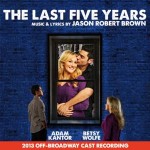 The Upper East Side location of Barnes & Noble (150 E. 86th Street) continues its commitment to Broadway and Off-Broadway theater fans with a new event scheduled for October 14 at 4pm which will feature the recent Off-Broadway musical The Last Five Years.
Betsy Wolfe and Adam Kantor, who starred in the revival of the two-person musical, will perform along with the show's composer/lyricist Jason Robert Brown.
Cast Signing After The Performance
All three will also sign copies of the production's new cast recording, which was just released in stores on September 24. This new recording of The Last Five Years (which was first recorded in 2002) is produced by Brown, as well as executive producers Stacey Mindich and Kurt Deutsch.