NYC's Workshop Theater Hosts Stop Gun Violence Now Theater Festival
The Off-Off-Broadway Workshop Theater Will Honor The One-Year Anniversary Of The Tragic Shooting In Newtown, Connecticut
---
One-Year Remembrance Of Newtown Shooting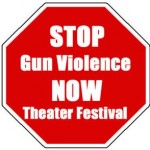 In honor of the one-year anniversary of the tragic school shooting in Newtown, Connecticut, New York City's own Off-Off-Broadway Workshop Theater (312 West 36th Street) will present the Stop Gun Violence NOW Theater Festival from December 12-15.
The festival will feature a number of works, including a one-person documentary piece based on interviews of people in Littleton, Colorado following the Columbine shooting; a showcase of writings and music created by people from Newtown; a documentary drama from 10 young women reflecting on their experience with gun violence in NYC; a fictional short play about a school shooting, and more.
Proceeds Will Go To Local Gun Control Initiatives
Panel discussions on preventing gun violence and using theater and political action to make change will also be a part of the festival, as well as a special tribute to the Newtown victims and their families. Proceeds from the festival will go to several local gun control initiatives. Learn more at www.SGVNowFest.com.
Discount Broadway Tickets
---
---