Traffic Congestion Charge Expected To Have Effect on Broadway Ticket Sales
The Long Awaited, Hotly Anticipated NYC Traffic Congestion Charge Pricing Plan Is Likely To Go Into Effect By The End Of 2023 And Broadway's Theatre District Is At The Very Center Of The Costly Commute
---
NYC Congestion Charge Pricing Plan: The Basics
In an effort to ease the mostly densely trafficked areas of the borough of Manhattan, NYC's congestion pricing plan will charge drivers fees depending on when and where they go. Ideally, commuters, out-of-towners and tourists will take the hint and depend more regularly on public transportation to get around, but public safety is a huge factor and it may not go well.
The congestion zone spans a hefty portion of Manhattan's vertical stretch, running from the Battery downtown all the way up to 60th Street uptown. However, both the West Side Highway and the FDR Drive are exempt from the affected districts, but take a turn off them and you will be charged. The Broadway theatre district lands right in the thick of this and the congestion charge threatens that business that drive commerce in NYC;s Midtown.
Projected Vehicle Surcharges
Of course, everyone will do their own cost/benefit analysis, and decide on their own transit preference. Factors include type of vehicle and the time of day that vehicle wishes to enter the hot zone. Nothing has been set in stone but one consistent proposal, for those drivers with E-ZPass, would tack on $23 during rush hour and $17 during off-peak times. This would be in addition to bridge and tunnel fees. This schedule would apply between the hours of 7AM and 8PM.
This will be the first time that car drivers from Brooklyn, Queens, Yonkers and Westchester will be forced to pay to get into Midtown Manhattan, as their bridges have been free since they were built.
Broadway shows typically start at 7PM or 8PM and this will land them right in the congestion charge peak-rate period, but this was probably by design. This new tax for out-of-towners comes at a very troubling time in NYC.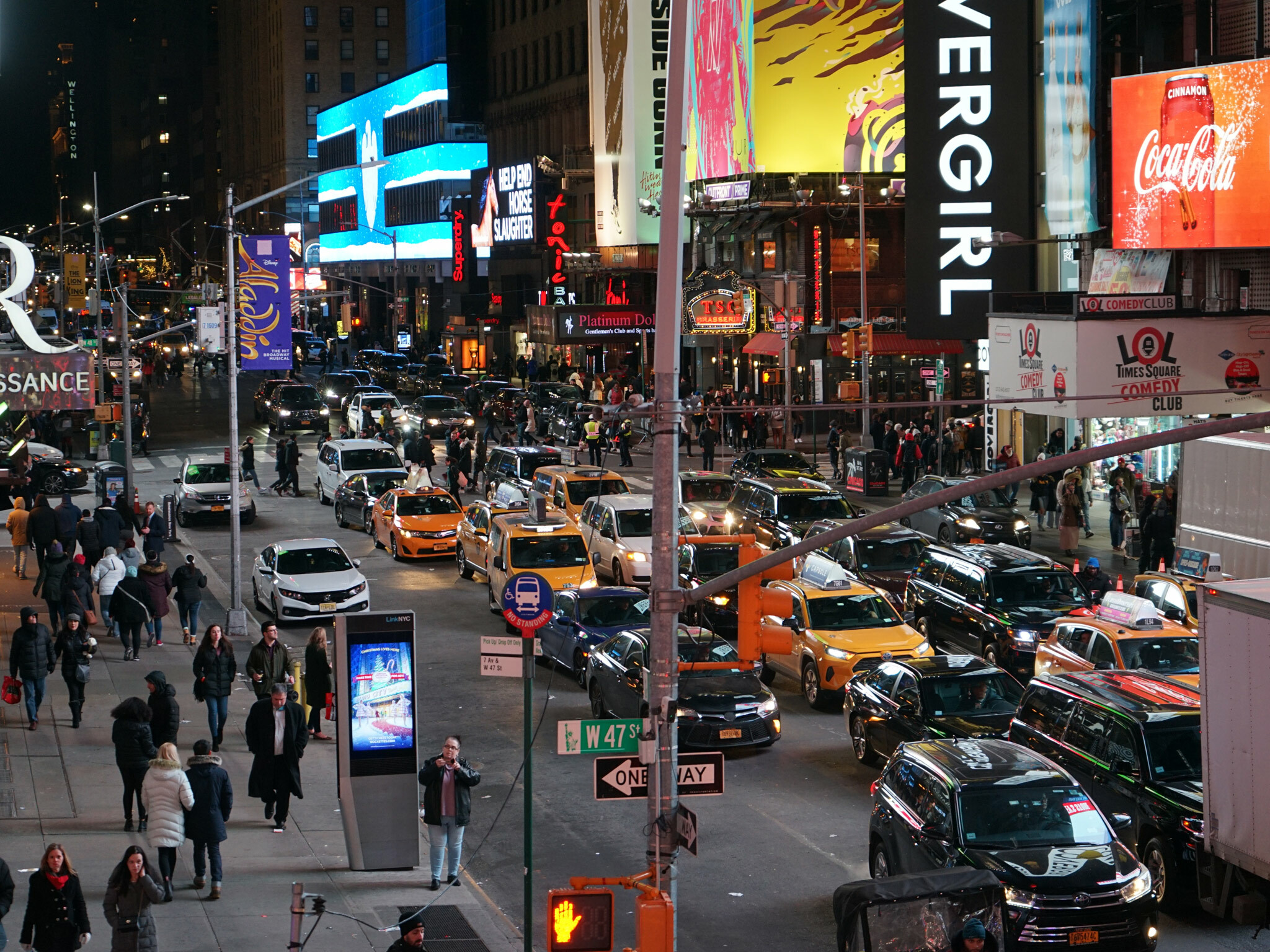 MTA Environmental Assessment Underway
In 2021, the MTA was given the green light, as it were, to undergo an environmental assessment for the congestion charge. Unexpected delays have slowed down the process, like so much of the bumper-to-bumper traffic that clogs Midtown daily. But the final approval by the federal government seems imminent, which means installing toll cameras won't be too far down the line and bills-by-mail and EZ pass charges will follow.
In addition to encouraging folks to ride the subway or city bus, the actual toll revenue would supposedly generate $1 billion annually for public transportation. This money would specifically fund the beleaguered NYC subway, where the murder rate is now at an all time high and ridership is down 40% from pre-pandemic levels, for good reason.
Broadway Shows and The Congestion Charge Pricing Plan
A fair amount of Broadway patrons come from outside NYC (outer boroughs, suburbs, exurbs). Many like to come in for a pre-theatre dinner beforehand but the congestion pricing could now deter them from doing either.
However, some who are driving often pay full-price for their tickets and already expect to pay for parking and are likely from affluent communities. They may initially scoff at the surcharge but then simply absorb it into the cost of a night on the town. It's a nominal fee to those with deep pockets and may not serve as a deterrent to that demographic's attendance.
With the bridge and tunnel charge from NJ now being at $13 and congestion charge at $23, the costs of driving in to Midtown from New Jersey just became $38, which could deter the less well-heeled middle class demographic, which makes up a significant portion of Broadway patrons.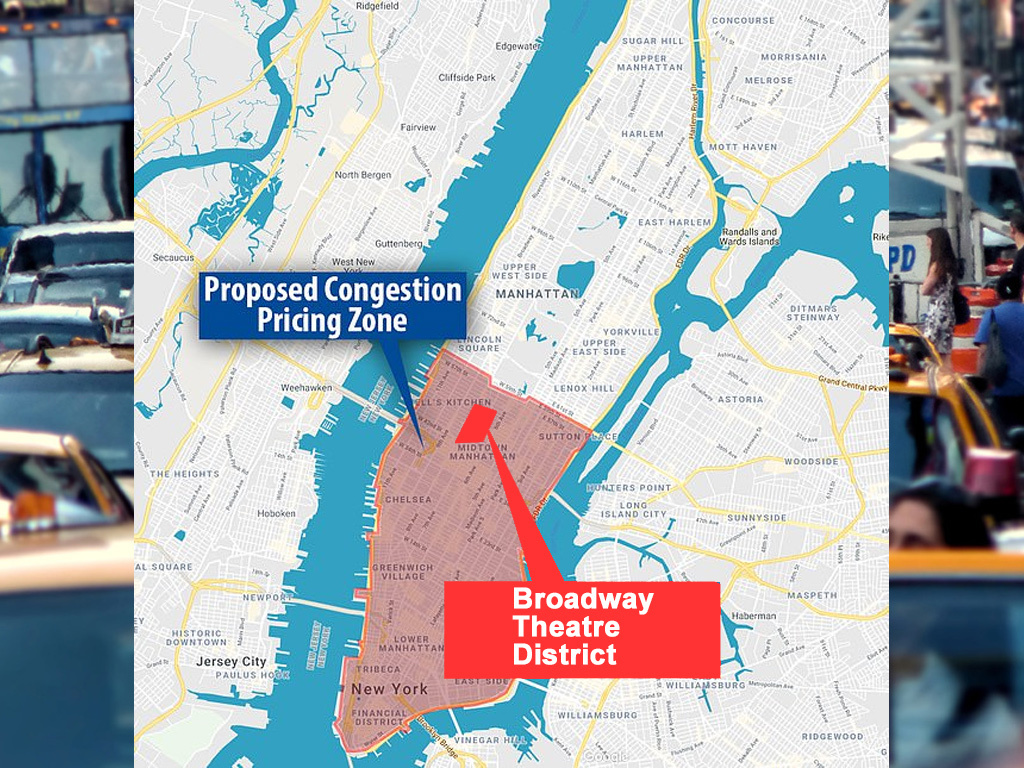 Charles Flateman and Charlotte St. Martin Press for a 6PM Cutoff
If Charles Flateman's "NYC & Company", Charlotte St. Martin's "Broadway League" and the NYC mayor's office have any luck, the 8PM peak cutoff will be moved to 6PM. If their efforts are successful, Broadway won't be as heavily impacted by the new fee structure.
If they are not successful, then the 8PM cutoff could have a huge effect on Broadway traffic and this would be new and unfamiliar ground for Broadway productions that could face financial hardships with a reduction of Broadway patrons coming into the city. Locals are not enough to sustain Broadway.
Congestion Charge Pricing: More Hard Data
MTA research offers some of its own calculations: roughly 24% of the 7.7 million people who enter the affected zone do so in vehicles every day. Therefore, approximately 1.8 million drivers would pay the new fee to get into the city, or they may to decide just to come in less, or not come in at all.
The MTA doesn't care which people choose, because they either reduce traffic or make a boat load of money on the traffic that does come in.
If Broadway show ticket sales are affected by the congestion charge, then the MTA has made it clear that it does not care about the projects affect on NYC businesses. Their goal is revenue for their beleaguered subway system, regardless of what is happening above ground.
If they can show that they reduce traffic by 10% in the city and gain some additional revenue for the NYC subway, then they would determine the endeavor to be a complete success. But if NYC business is reduced by 25% by the project, that will not enter into their equation and they will then be at loggerheads with the Mayor.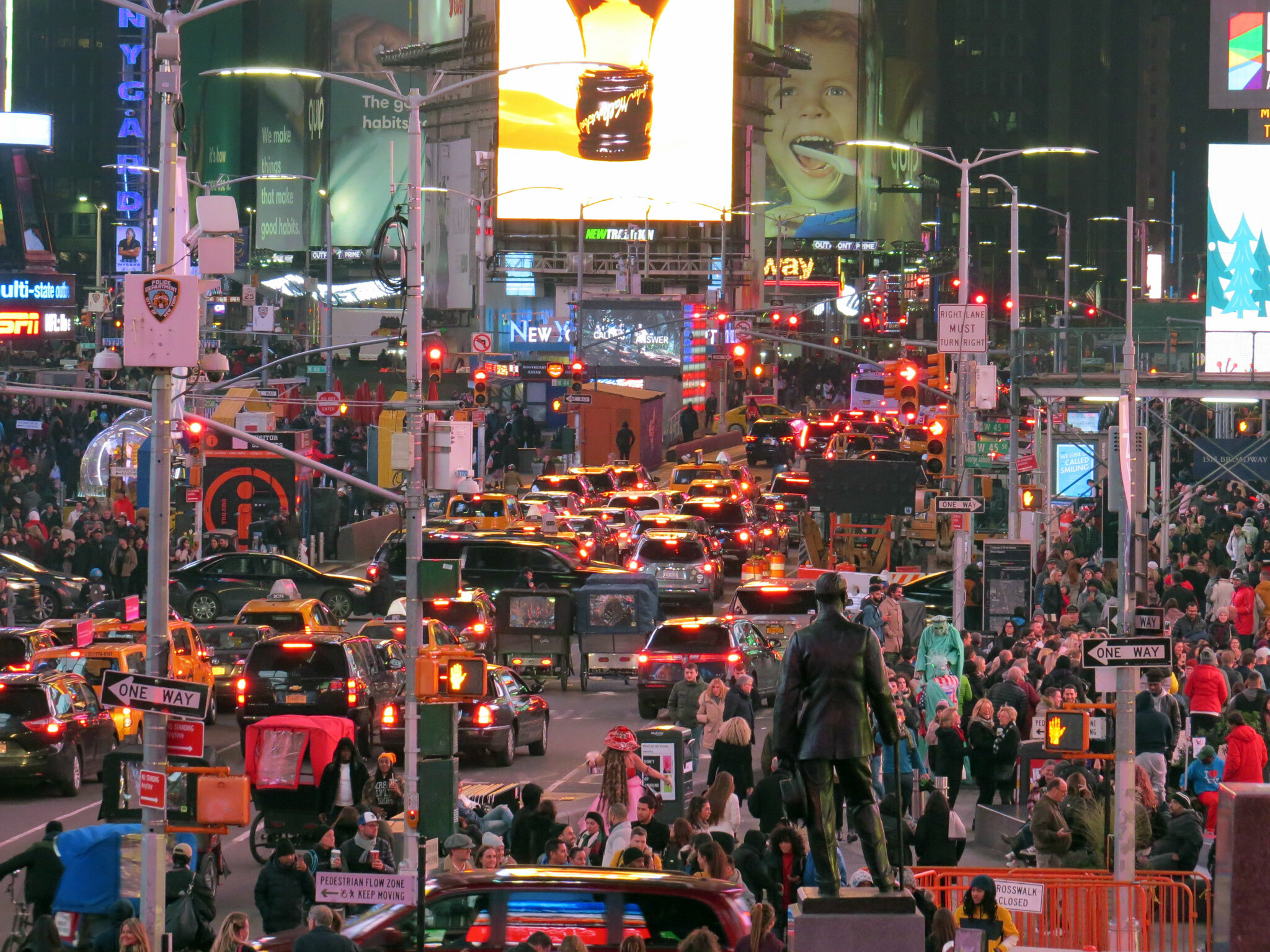 Mass Transit Safety Risks - Out of Towners Have Little Choice
While the plan is meant to incentivize increased use of mass transit, the safety issues are undeniable. In 2022 alone, a woman was shoved to her death while on a subway platform the Times Square station, a man was killed by gunfire on a Sunday morning Q train and 10 innocent citizens were wounded in a mass shooting on an N train. These stories are now daily occurrences in NYC and there seems to be no end in sight.
It's hard not to think you're taking your life in your hands every time you walk through a subway turnstile. And there's been a sharp uptick in crime as well. Some NYPD data shows otherwise, at least in terms of types of crimes, but the pandemic drove people away from the subway and many are not eager to come back. The filth, homeless and crime is keeping them away, from both the subway and the city.
With congestion pricing coming and the safety problems on public transportation, the middle class may just give Manhattan a miss, which could spell huge trouble for Broadway shows, caught in the crossfire between the MTA and the NYC Mayor,
How to Get Around the Fees…Literally
Traffic itself in the highly commercial theatre district is not likely to thin out. But the surcharges only impact those vehicles entering or leaving the zone. Drivers can freely navigate within the zone without financial repercussions, but cannot leave.
Businesses may still flourish as they depend significantly on pedestrian traffic, whose presence may even increase, but time will tell.
Others who are not keen to jump on a subway or bus– and who are not in any hurry– can also take the FDR or the West Side Highway to cheat the system, but cannot take a turn, or even stop.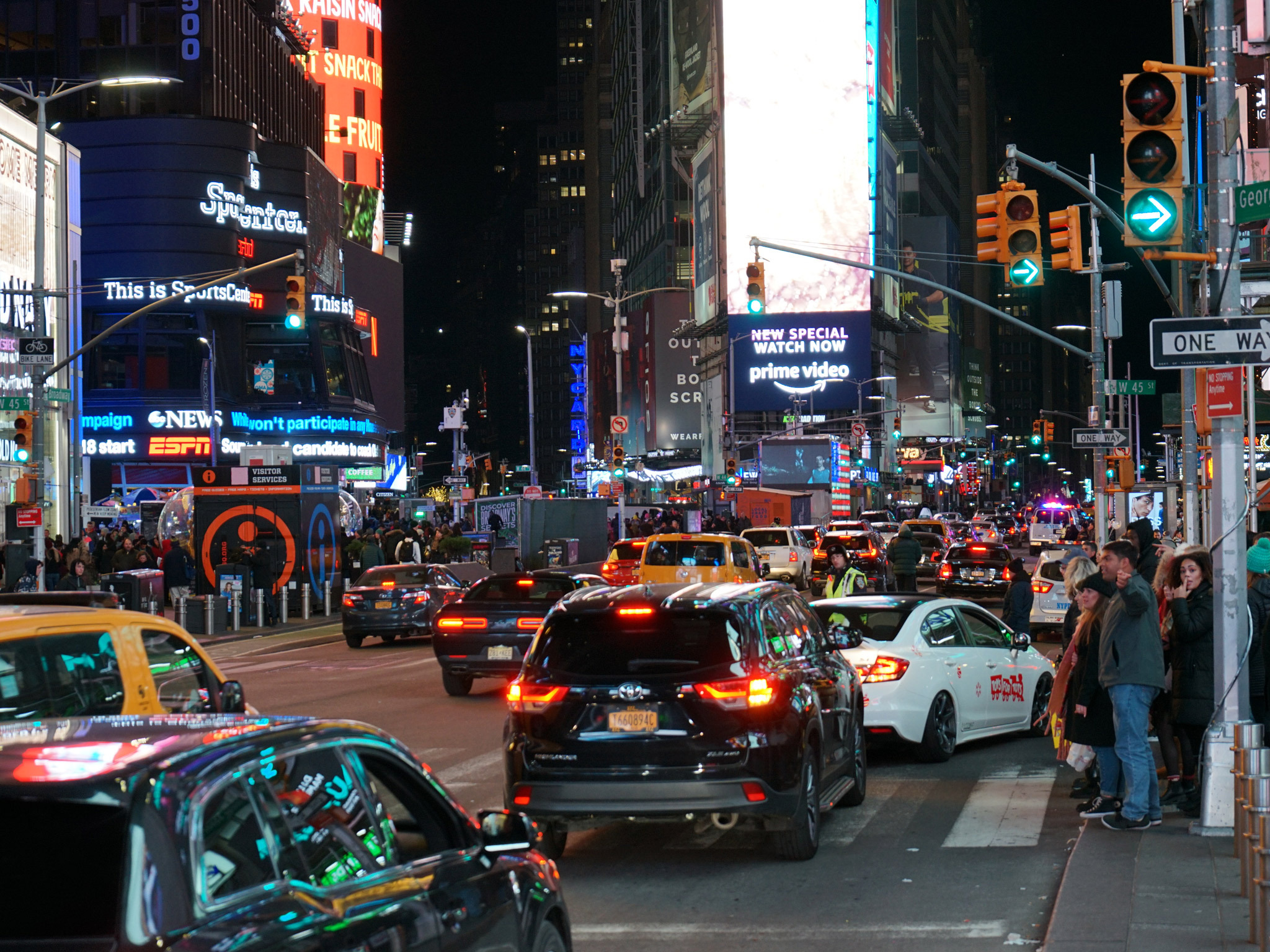 NYC: The City That Never Sleeps
Will the city that never sleeps become the city that never beeps? Time will tell.
NYC is taking a huge gamble on deterring out-of-towners from coming into town and the city's finances have long ago determined that it cannot run just on the commerce from locals.
The city needs people to come in and spend money, otherwise it could create an urban economic downturn and put itself in a deeper financial hole that would harm Broadway.

Would Broadway ever move out of town? Not in our lifetime, but people said the same thing about Broadway when it was downtown until the late 1800s and most theatres moved uptown to the area we know today as the Theater District, which at the time was made up mostly of family residences and farms.