"Noises Off" Begins Previews at the American Airlines Theatre on Broadway
Noises Off Began Previews At The American Airlines Theatre For Its Third Time On Broadway, Directed By Jeremy Herrin And Starring Andrea Martin, Megan Hilty, Rob Mcclure And Tracee Chimo
---
Roundabout Theatre Company production of Backstage Comedy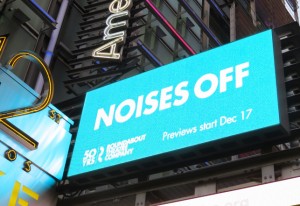 Michael Frayn's play Noises Off first premiered on Broadway in December 1983, following its world premiere in London at the Lyric Theatre, Hammersmith, and earning a nomination for the Tony Award for Best Play. Since that time, the play has become a favorite of both professional and amateur theatre companies for production all over the world. For the 2000 revival at London's National Theatre directed by Jeremy Sams, Michael Frayn did substantial rewrites to the script; that production transferred to Broadway starring Patti LuPone, Peter Gallagher, and Faith Prince.
For the third time now on Broadway, Noises Off is presently in previews at the American Airlines Theatre in a Roundabout Theatre Company production. The play is a comedic farce that takes place backstage at the theatre. Each of the play's three acts is a performance of the first act o the play within the play, called "Nothing On." This pretend play is a flamboyant show where girls run about in their underwear and doors bang open and shut. The first time we see Act One, it is a dress rehearsal; the second time, it is one month into the run at a Wednesday matinee; and the third time, it is near the end of the 10-week run. The contrasts between each performance, as well as between the characters' personalities on and offstage, make up the comedic effect.
An All-Star Cast Gathers for Comedic Brilliance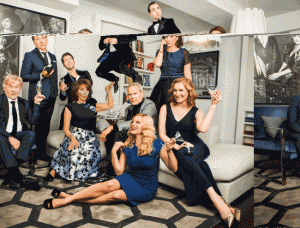 Directed by Jeremy Herrin, this revival stars Andrea Martin (Act One, Pippin, Exit the King) as Dotty Otley, a late-middle aged actress who is romantically interested in Garry Lejeune, played here by David Furr (The Importance of Being Earnest, Accent on Youth). Meanwhile, Tracee Chimo (The Heidi Chronicles, Off-Broadway's Bad Jews) plays Poppy Norton-Taylor, the assistant stage manager of the play within the play, and Megan Hilty ("Smash," 9 to 5, Wicked) plays Brooke Ashton, a young inexperienced actress from London who always loses her contact lenses and pays no heed to others' feedback of her performance.
The director of "Nothing On," Lloyd Dallas, is played by Campbell Scott (TV shows such as "Royal Pains," "Damages," films such as "The Amazing Spider-Man," and long ago Broadway productions such as Ah, Wilderness!, Long Day's Journey into Night). Lloyd, Brooke, and Poppy have a convoluted love triangle that adds to the comedy. Finally, Rob McClure (Honeymoon in Vegas, Chaplin) plays Tim Allgood, the overworked stage manager, Jeremy Shamos (The Assembled Parties, Glengarry Glen Ross) plays Frederick Fellowes, a fearful fellow whom Dotty pretends to admire, Daniel Davis (La Cage aux Folles, The Frogs) plays Selsdon Mowbray, and Kate Jennings Grant (The Country House, The Lyons) plays Belinda Blair, a cheerful and reliable actress in the company.
Limited Engagement to Continue Until March 6th
Noises Off will continue in previews until its opening night performance on January 14, 2016. Following that, it will play a limited engagement currently scheduled until March 6, 2016. So far it is performing to mediocre levels at the box office, bringing in about 50% of its gross potential in the two weeks of its run so far. The last reported week of box office figures, the week ending December 27, 2015, it brought in $285,682, which represents 50.02% of its gross potential. With a top ticket price of $139, the average paid admission was $67.89, made lower by discounts for subscribers to Roundabout Theatre Company, among other reduced tickets.