Newsies Still Packs Them In, a Year After Jeremy Jordan Departed
After One Year On Broadway At The Nederlander Theatre, Newsies Ticket Sales Slow Down Despite Critical Acclaim And Touching Story
---
Disney Musical "Newsies" Slowing Down On Broadway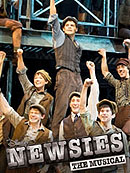 Encouraged by the New York newsboy strike of 1899, Disney's cathartic production of Newsies the Musical first premiered at the Paper Mill Playhouse in the fall of 2011, quickly moving on to the Nederlander Theatre on Broadway in the spring of 2012.
Whether it is because the show has been running on Broadway for an extensive period of time or the show wrestles without an attention reeling name like Jeremy Jordan, this Disney musical has not been living up to its full potential this year, compared to the last. (Jeremy Jordan left Newsies on Sept 4 2012 to pursue his dream of TV fame in the musical drama TV series Smash which aired on NBC and ended its 2nd, and final, season on May 26, 2013).
"Newsies" Filled Theatres
When Newsies first opened on Broadway in the March of 2012, they were averaging 100.8% in ticket sales and were grossing an average of $937,788.92, in comparison to January of 2013. Up until now they have been averaging 95.6% in ticket sales and are grossing an average of $847,072.23, with a 97% of theatre seats sold on average every night.
Looking at this data, there was not a colossal loss, possibly because in the beginnings of this production, people were so anxious about this musical being an adaptation to the popular 1992 film, starring Christian Bale. Compared to the movie, the musical is much longer, and more care and precision have been placed into it.
Critical Acclaim Doesn't Equate To Monetary Success
Recasting has always been a difficult task to execute and even though the show has fared critically in monetary terms, Jeremy Jordan's replacement, Corey Cott, has been fairly up to par. The emotional build-up for every number is not nearly as tantamount to what Jeremy set the standards for, but Corey manages to pull off an astounding performance with a voice similar to Jeremy's, making up for many of the weak moments to the female lead's, Kara Lindsay's, singing.
Albeit the humorous, witty journalistic jokes and snappy, energetic attitude, Kara lacks this sort of resilience and strength, for the most part; coming off seemingly reserved and as if she is holding herself back, teetering along the lines of the melody and not quite hitting all of her notes. (Maybe this is due to the exhausting eight-shows-a-week schedule.)
Exceptional Use Of Space And Stage
Aside from the exciting dance numbers and character developments, there is exceptional use of the limited space on stage. The construction of the set, along with the essence of New York, is captured quite perfectly. A gate at the top of each moving staircase so that they can connect or detach from each other exacerbates the excitement of the chase-run scenes.
The backdrop is tastefully modern, displaying shifting scenery or showing words from a typewriter whenever Kara's character speaks what she is so furiously typing. Any seat in the house could clearly see what was going on, although being in the front few aisles definitely opens up your eyes to the deliberate sweat dripping and spit flying everywhere.
"Newsies" Pulls At The Heartstrings
Even though Disney's target market is for families of all ages, female fans of the Christian Bale movie of the same name, the audience demographic at this show seems to skew to an older, more mature crowd who may find solace in this hopeful musical because of the very pertinent modern day financial and social struggles.
With tattered corduroys and newsboy cap-wearing orphan boys selling newspapers, desperate to make a living out on the cutthroat streets of New York, Newsies pulls at the heartstrings, bringing to mind the toil of making a living on Broadway, or simply the everyday strife that everybody trudges through. With no foul language or anything particularly scandalous to worry about, overall, this show is quite uplifting, entertaining, and sublime for families.