"Newsies" on Broadway Announces Closing in August 2014
To the General Industry's Surprise, Disney Theatricals Has Announced That Its Hit Musical Newsies Will Be Closing On August 24, 2014.
---
Newsies: An Unexpected Closing Decision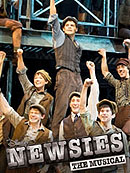 Disney Theatricals' production of Newsies has been running at Broadway's Nederlander Theatre since March 15, 2015, with its official opening night on March 29, 2014. For the 2012 Tony Awards, it was nominated for eight awards, winning two: Best Choreography for Christopher Gattelli, and Best Original Score for Alan Menken and Jack Feldman.
With a book by Harvey Fierstein and directed by Jeff Calhoun, this musical was the break-out role for its star Jeremy Jordan, who has gone on to star in the Broadway production of Bonnie & Clyde as well as the film version of The Last 5 Years and the television show Smash.
"Newsies" Far Exceeds Expectations In The Box Office
Newsies has been performing consistently well at the box office; with a modest budget of $5 million, it has gone on to gross over $100 million for Disney Theatricals. In recent months, it has been holding up if not knocking it out of the park at the box office, which is why it comes as somewhat of a surprise that the show has just announced its closing date: August 24, 2014.
Newsies is based on a 1992 film inspired by the true story of the Newsboys Strike of 1899 in New York City. That film was much less of a success than this musical has proven to be, as it only earned less than $3 million, with a budget of $15 million. This film flop therefore ranks as one of Disney's lowest-earning live-action movies of all time.
Flop On Film But Success On Broadway
This goes to show that different elements make for different degrees of success on the stage and on the screen. With a compelling storyline, this show is renowned for its thrilling choreography, embracing the theatricality of the musical medium. Furthermore, Harvey Fierstein is not only an industry favorite but a very talented musical book writer, and he did a wonderful job of adapting the story for the stage.
The Disney Theatricals Slate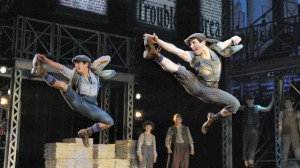 Though Disney did not disclose its decision-making process, the organization likely felt that the show had been a great enough success to go out with a bang, rather than continue to have it run on sales that could only begin to taper off as time went on.
Whereas the show once regularly earned over a million dollars weekly, its numbers have been significantly lower in recent months.
Disney Prepares For New Shows To Hit The Stage
Furthermore, Disney has several enormous Broadway hits already, the most notable being The Lion King which has been running for 16 years at the top of the gross charts, and the now-closed Beauty and the Beast which ran for 13 years.
Furthermore, the organization has just opened its new show Aladdin this season, and it will soon premiere its stage adaption in London of Shakespeare in Love (a co-production with Sonia Friedman Productions), as well as a revised stage adaptation of The Hunchback of Notre Dame in California's La Jolla Playhouse this upcoming fall. Still, not all of Disney's stage shows have been successes, with notable flops including Tarzan and The Little Mermaid.
"Newsies" Was A Surprise Broadway Success
Not only does Disney have other shows to focus on, but it never planned for Newsies to run for as long as it did. The production had its first try-out run at the Paper Mill Playhouse in New Jersey, with the intention of focusing the property on licensing, regional, and amateur productions, similar to its High School Musical franchise.
However, when the reception proved to be a success, especially from notable New York theatre critics, the decision was made to transfer to the Nederlander Theatre, but again only for a limited engagement of three months.
A National Tour, And An Available Nederlander Theatre
Now that the show has played for well over two years, it has far exceeded its original expectations. Plans are now underway for a national tour to begin in October 2014. This will now open up the Nederlander Theater for musicals that are vying for a venue, as there are remarkably few available theatres on Broadway for new musicals, though there are many in development.