Newsies Offers Lottery For Free Tickets March 23-29
After A Successful Year On Broadway, Newsies Is Offering A Lottery For Two Free Tickets At The Nederlander Theatre As A Thank-You To Their Enthusiastic Fan Base
---
"Newsies" Offers Free Ticket Lottery For One-Year Anniversary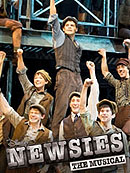 In the lead-up to its one-year anniversary on Broadway March 29, Newsies is celebrating by offering the tickets distributed in its pre-show lottery for free for an entire week. Newsies is offering these free tickets as a thank you to the musical's ardent fan base.
The lottery tickets, which will be for a limited number of orchestra seats, will be free of charge starting with the lotto for the evening performance on March 23 through the evening performance on March 29. The Newsies lottery begins accepting entries two and a half hours prior to each performance, with the actual drawing taking place two hours before the performance.
Lottery Is Held At The Nederlander Theatre
One entry is accepted per person, and one person can have up to two tickets. A valid ID must be presented. The lottery is held at the show's theater, the Nederlander Theatre, located at 208 W. 41st Street. Newsies will also be celebrating its one-year Broadway anniversary on TV with an appearance on Good Morning America on April 1.
The Newsies cast will do a special performance of "Carrying the Banner" in which they will perform the song as they walk from the Nederlander Theatre to GMA's studio, located in Times Square.