New York Chocolate - An NYC Religion
---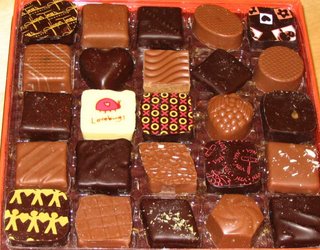 Sometimes you want more than just your run-of-the-mill candy bar in NYC. You want to go someplace where chocolate isn't just a snack, but a way of life. Enter the chocolate nirvana's. Start with
Max Brenner,
where chocolate isn't just a way of life, but a near religion. With stores around the world, the chain takes its chocolate seriously. You can start with breakfast (and if you can't wait, go for the Melting Cinnamon Chocolate Chunks Oatmeal) proceed to the Petite Lunch (where sides include waffle fries dusted with chili and, of course, cocoa powder) and then head for the big time. Maybe Max's Three Layer Chocolate Confection with Toffee Bananas? You can always attempt the Peanut Butter Crunchy Dessert Bonbon, or any one of the fondue, ice cream or crepe creations. Max Brenner has two New York locations: 841 Broadway (between 13th and 14th Streets) and 141 Second Avenue (at 9th Street.) call 212 388-0030. Next stop:
Jacques Torres
. The dessert czar (he was the pastry chef at Le Cirque) has several locations in Brooklyn and Manhattan, including one on the upper west side (285 Amsterdam, between 73rd and 74th Streets; 212 787-3256; as well 350 Hudson Street (212 414-2462. (The location in Brooklyn features an ice cream store and factory that is visible from street level.) . While you can buy standard chocolates (if your definition of standard includes Champagne Kiss bonbons) the real draw is the amazing hot chocolate in a variety of flavors. Finally, head to the delightful
Marie Belle
. With such events as private chocolate-tasting classes and a Cacao Bar and Tea Salon, this shop offers an elegant take on the chocolate experience. Try the Aztec Hot Chocolate.www.mariebelle.com; MarieBelle on Madison (762 Madison Ave, between 64th and 65th Streets) (212 249-4585); or MarieBelle SoHo (212 884-9707) 484 Broome Street.
Discount Broadway Tickets
---
---