New Visitor Center Showcases the Pasts of New York's African Americans
A New Visitor Center Has Opened At The African Burial Ground National Monument In Lower Manhattan, Providing A Rich Historical Experience That Celebrates Black History And Heritage
---
New Visitor Center Celebrates African American History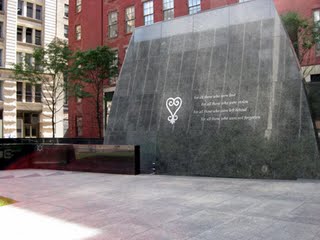 In a fitting sendoff to Black History Month (February), a new visitor center in lower Manhattan opened in New York City yesterday—it's at the African Burial Ground National Monument, on Broadway between Duane and Reade Streets. In the Center, visitors can learn how the burial ground was discovered in 1991 during construction on a federal building. Information also details the history of both free and enslaved African Americans in what was first New Amsterdam, and later, New York City.
It also focuses not just on the lives of the African Americans in New York, but also on their backgrounds in Africa. Approximately 15,000 African Americans were buried in the more-than-six-acre area for about 100 years, from about the 1690s until the 1790s. The space, right outside the boundaries of what was New Amsterdam, was later lost because of landfill and development. The visitor center, which includes many interactive elements, offers a theater, four exhibition areas, and a store.
Explore History at NY's Historic Landmark
A resource library and tours are also available. The burial ground was designated a National Historic Landmark in 1993; it's also a National Monument. Original and replica artifacts are on view, ranging from textiles to maps. Recreations of scenes, such as depictions of mourners gathered at a burial, are also included. Admission to the center, which is part of the National Parks of New York Harbor, is free. The center is located inside the Ted Weiss Federal Building. More information can be found at nyps.gov.