New Broadway Show Delays Due To Sandy
New Broadway Show Opening Delays Due To Hurricane Sandy Damage and Water and Access Problems
---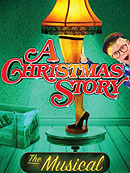 Hurricane Sandy didn't only cause the cancellation of several Broadway performances early in the week, but it also caused delays for some of the new crop of shows coming to Broadway.
A Christmas Story the Musical was originally supposed to start preview performances on Monday, November 5, but the first preview is now being delayed to Wednesday, November 7. Producer Gerald Goehring stated that, "Due to the storm, the company has lost important rehearsal time on stage. In order to assure that the company gets the necessary time that they need to rehearse at the Lunt-Fontanne, we have decided to reschedule our first performance." Ticket holders for the November 5 performance can exchange them for another performance at their point of purchase.

Dead Accounts, the new play starring Katie Holmes and Norbert Leo Butz, was originally scheduled to begin preview performances this Saturday, November 3. However, the show now won't begin previews until Monday, November 5. To provide some consolation for the original ticket holders to the November 3 performance, the producers of Dead Accounts are offering them a coupon for a free pint of Graeter's ice cream, which can be redeemed at D'Agostino's grocery stores. The coupons can be picked up at the Music Box Theatre box office, where ticket holders of the November 3 performance can also see about exchanging their tickets for another performance date.