My Fair Lady May Be on Broadway in 2014
Grammy Award Winner Record Producer Clive Davis Hopes To Produce A Broadway Revival Of My Fair Lady Coming To The Stage In 2014
---
Clive Davis Hopes To Produce A Broadway Revival Of "My Fair Lady"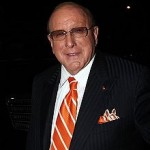 Legendary music producer Clive Davis is making plans to bring Broadway a new revival of the Golden Age musical My Fair Lady to Broadway next year. The tuneful stage classic (which boasts numbers like "I Could Have Danced All Night") first opened on Broadway in 1956 in a production starring Julie Andrews and Rex Harrison.
"I always wanted to produce a Broadway show, and I've never done it," said Davis in an interview with the Los Angeles Times. "I don't want to jinx myself, but we're in discussions with two magnificent performers and a wonderful director."
Grammy Award Winner
Clive Davis is a multiple Grammy Award winner for his work as a record producer. Over the years he has worked with numerous rock, pop, and R&B artists, including Aretha Franklin, Janis Joplin, the Grateful Dead, Whitney Houston, Alicia Keys, Kelly Clarkson, Harry Connick, Jr., Christina Aguilera, and Barry Manilow, who is currently performing on Broadway.