Musical Coming to New York's Grand Central Terminal
Orphan Train The Musical Comes To Grand Central's Vanderbilt Hall Based On A Real-Life Initiative In An Immersive Audience Experience
---
"Orphan Train: The Musical" Comes To Grand Central's Vanderbilt Hall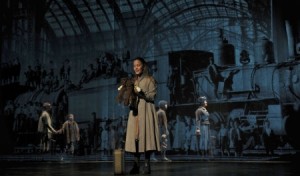 New York City's famed Grand Central Terminal, recognizable even to many non-New Yorkers because of its prominence on film and TV, is known as a place where thousands of commuters travel through each day.
But it has not been much known as theatrical venue, at least until now. Featuring music by Doug Katsaros, lyrics by Michael Barry Greer, and a book by L.E. McCollough, Orphan Train: The Musical will play in Grand Central's Vanderbilt Hall on October 11 and 12.
Based On Real Life
The musical is based on a real-life initiative in the late 1800s and early 1900s, which had New York City orphans sent out West to adoptive families. Much of the show actually takes place in Grand Central Terminal. "I am so pleased this show, created and performed by so many talented people, will be seen by New Yorkers in this amazing space," stated the production's director and choreographer Patricia Birch.
"This is going to be an emotional, immersive experience for the cast and the audience alike." Performances of Orphan Train: The Musical are free, but reservations are required. Click here to reserve tickets.