Musical Cabaret at Museum of the City of New York
Museum Of The City Of New York Presents A Musical Cabaret On November 11, Celebrating Musicals From West End To Broadway, Featuring Performances By Brigid Brady And Destin Owens
---
New York Museum will Host "From West End to Broadway"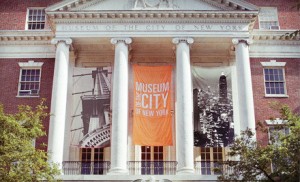 In celebration of the two cities being featured in its "London Street Photography" and "City Scenes: Highlights from New York Street Photography" exhibits, the Museum of the City of New York is hosting "From West End to Broadway: A Musical Theater Cabaret". Taking place on Sunday, November 11 at 3pm, this musical event (part of the museum's Perform! series) will celebrate the unique sounds of London and New York City through song. The songs of Noel Coward, Betty Comden & Adolph Green, and Leonard Bernstein will be among the "musical snapshots" featured, creating rich pictures of these distinguished cities from past to present.
Performers Brigid Brady (The Phantom of the Opera), Destan Owens (Rent), Sarah Stiles (Into the Woods), and Peter Land (Noel and Gertie) will offer their singing talents for the event, which is directed by Michael Montel and music directed by Lawrence Yurman. Tickets for "From West End to Broadway" are $35 for the general public, but only $25 for students, seniors, and members of the museum. To RSVP or get further information, call 917-492-3395. Tickets can be purchased.