Mixed Reviews for Seth Rudetsky's "Disaster!" Broadway Musical
Disaster The Musical, Starring Seth Rudetsky Opened At The Nederlander Theatre To Mixed Reviews And Mediocre Box Office.
---
Book, Concept, Arrangements, Music Supervision, And Acting by Seth Rudetsky
This past week, Disaster! played its official opening night at the Nederlander Theatre, following 32 preview performances. The new musical came to Broadway after trial runs at smaller New York theatres, beginning with the Triad Theatre in 2012, followed by the St. Luke's Theatre from 2013 to 2014.
The show is co-conceived by Seth Rudetsky and Drew Geraci, with a book by Seth Rudetsky and Jack Plotnick, and directed by Jack Plotnick. Rudetsky also acts as music supervisor and is responsible for the song arrangements, which are pulled from a jukebox score of hits from the 1970s.
"Disaster" A Parody of 1970s Films
The cast stars Seth Rudetsky alongside Roger Bart, Jennifer Simard, Kerry Butler, Kevin Chamberlin, Adam Pascal, Faith Prince, Rachel York, and Max Crumm. The music is drawn from such artists as Stevie Wonder, Mary MacGregor, Barry Manilow, Chicago, Donna Summer, Gloria Gaynor, Free, Carly Simon, Don Williams, Chuck Mangione, Linda Ronstadt, Diana Ross, the Jackson 5, Michael Jackson, Al Green, and Peaches and Herb.
The concept is a parody of 1970s disaster films, in which a group of New Yorkers are struck with a series of disasters while aboard a floating casino and discotheque, such as earthquakes and killer bees.
Critics Are Mixed In Their Response To This Musical Parody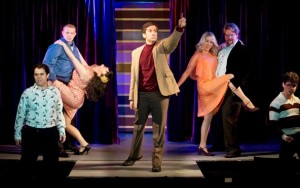 Charles Isherwood of The New York Times was among the reviewers who were won over by Disaster!, which he calls a "delirious goof" that provides a rush of "giddy nostalgia."
Adam Feldman of Time Out New York was also a fan of the show, calling it "lovably scrappy" and "deliciously silly," and particularly pointing out the charms of actress Jennifer Simard, whom he calls the show's "secret ingredient." However, other major critics found the show to be a failure.
Gifted Actors Can't Save The Show
Jeremy Gerard of Deadline remarks that the incredibly gifted actors must have been tricked into performing in this farce, calling it "painfully witless" and asking us to "take pity" on these performers. David Rooney from The Hollywood Reporter agrees that the spoof musical "seldom matches the heights" of the Broadway pros in the cast, deeming it a mystery why anyone thought to move this show to the level of Broadway.
In addition, Jesse Green of Vulture remarked that Disaster! was in fact a disaster of a show, calling the set "sparse and ugly" and calling the entertainment within its frames "tiny" and fitting for a basement rec room.
Box Office Is Borderline Dismal
Whether the critics liked it or not, Disaster! is not faring very well with audiences. In the last reported week of box office figures, the week ending March 13, 2016, the show brought in $318,847, which represents only 28.76% of its gross potential. This is a slight increase from the previous two weeks, which, in reverse chronological order, brought in 26.7% and 23.6% of the show's gross potential.
The first two weeks of the run were slightly more optimistic, reaching 32.44% and 30.08% of its potential. Nevertheless, none of these numbers are particularly extraordinarily, and in fact they are dangerously close to the show being deemed a disaster at the box office.
Unlikely To Reach Profits
The numbers did not increase after reviews came out, and the negative reviews peppering the mix will not help very much. In any case, unlike most musicals, this one has a pre-scheduled closing date of July 3, 2016, so while Disaster! will likely remain in the red throughout its entire run, it may also avoid the disastrous fate of closing earlier than planned.