"Misery" Concludes Performances at the Broadhurst Theatre
Misery, Produced By Theatre Ventures, Closed At The Broadhurst Theatre On Broadway At A Financial Loss, Laurie Metcalf May Be A Contender For A Tony Award For Best Actress
---
High Hopes but Disappointment for Bruce Willis' Broadway Debut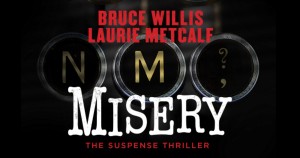 This past week, Misery concluded performances at the Broadhurst Theatre. The play had a limited engagement with previews beginning on October 22, 2015, and an official opening night on November 15, 2015. Upon closing, the show played 102 performances in addition to 27 preview performances. This play was written by William Goldman (A Family Affair, Blood Sweat and Stanley Poole), based on the 1987 novel by Stephen King of the same name. It was directed by Will Frears, who also made his Broadway directorial debut.
The novel was also adapted into a film, which was released in 1990 by Warner Bros., and which earned an Academy Award for Best Actress for the lead actress, Kathy Bates. The theatre adaptation first premiered in 2012 at Bucks County Playhouse in Pennsylvania, which was the only major production prior to the Broadway run.
Warner Bros. Take On a Broadway Solo
Warner Bros. Theatre Ventures is the lead producer of the Broadway run, in association with Castle Rock Entertainment. While Warner Bros. has been in the theatre game for a while, it is unusual for them to take the mantle all by themselves without any other Broadway producers steering the course. The disappointing outcome of Misery may be in part due to their lack of experience.
Laurie Metcalf a Frontrunner for Tony Award for Best Actress
While Bruce Willis is the bigger box office name compared to Laurie Metcalf, his Broadway debut was poorly received by critics. Ben Brantley of the New York Times called his performance "vacant," David Cote of Time Out New York called his debut "weirdly narcotized and passive," and Jeremy Gerard of Deadline called him "meh." Laurie Metcalf, on the other hand, is a very well regarded actress on stage, although her household name recognition doesn't hold a candle to Willis'. In any case, her performance in Misery was by the far the highest praised element of the show.
David Cote of Time Out New York said that she filled "the vacuum left by a deadpanning Willis," describing how she "hoots, purrs, howls, and tears" apart her home. To be fair, the part does offer Metcalf more of a chance to shine, as she is the borderline crazy person while Willis is the meek hostage. Nevertheless, the reviews are clear that Metcalf demonstrated superior acting talent. Therefore, she is considered a frontrunner for the Tony Award for Best Actress in a Play. Other contenders may include Keira Knightley from Thérèse Raquin, Annaleigh Ashford from Sylvia, and Nina Arianda from Fool for Love, but Metcalf arguably outshines them all.
Closing at a Financial Loss on Broadway
In its final week of performances, Misery brought in $784,206, which represents just 62.85% of its gross potential. On average throughout the run, the show brought in 63.64% of its gross potential. The only week to perform exceedingly well was the first partial week of four preview performances, the week ending October 25, 2015, when the show brought in $622,939 across those four performances, which represented 103.98% of its gross potential.
That about saturated the diehard Bruce Willis fans who were willing to spend top dollar to see him in the flesh at the earliest opportunity. The rest of the preview box office grosses were a bit less spectacular, ranging from around 70 to 80 percent of the gross potential. However, once reviews came out, the box office remained in the realm of 50 to 60% of gross potential throughout the run. Though the capitalization for Misery was not disclosed publicly, its lack of a recoupment announcement implies that the show closed at a financial loss.
Discount Broadway Tickets
---
---