Michael Moore Begins Previews in Solo Broadway Show
Michael Moore Makes His Broadway Debut In His New Solo Show, The Terms Of My Surrender, In Which He Intends To Take Down Donald Trump.
---
"The Terms of My Surrender" Aims To Take Down Trump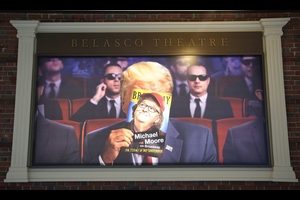 On July 28, 2017, The Terms of My Surrender began previews at the Belasco Theatre, ahead of the opening night scheduled for August 10, 2017. Michael Moore makes his Broadway debut in this solo show, which intends to play a limited 12-week engagement.
Michael Moore is an Academy Award winning documentary filmmaker, whose films include Fahrenheit 9/11, Bowling for Columbine, Sicko, and Michael Moore in TrumpLand. He is also a best-selling author of books including Here Comes Trouble: Stories from My Life, Mike's Election Guide 2008, The Official Fahrenheit 9/11 Reader, Will They Ever Trust Us Again?, Dude, Where's My Country?, and Stupid White Men…and Other Sorry Excuses for the State of the Nation!
Unique Political Voice
He is well known as a unique political voice who is outspoken and left-leaning, but also unafraid to be a non-conformist. Famously, he predicted that Donald Trump would win the 2016 Presidential Election, and his documentary film Michael Moore in TrumpLand was a filmic presentation of a live show he did in pro-Trump areas of Ohio. The Terms of My Surrender is a completely different show than the one he held in Ohio, but many of the details remain undisclosed.
Michael Mayer Directors Michael Moore On Broadway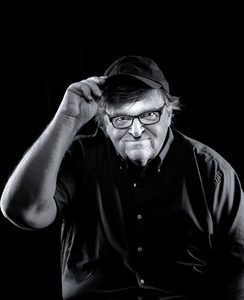 The director of The Terms of My Surrender is Michael Mayer, the Tony Award winning director of shows including Spring Awakening, Hedwig and the Angry Inch, American Idiot, and On a Clear Day You Can See Forever.
Reportedly, Michael Moore and Michael Mayer had been discussing collaborating on a Broadway show for three years by the time Trump won the election, but their schedules had not aligned. As soon as the election results were in, Michael Moore made two phone calls: to the film producer Harvey Weinstein about making his documentary film Michael Moore in TrumpLand, and to Michael Mayer about finally putting together that Broadway show they had been discussing.
Interactive Show Based On Current Events
The format of the show is not entirely revealed, but Michael Moore has been clear what the show is not: it is not a rally, it is not a stand-up comedy show, and it is not a rant.
Rather, it is an interactive show that incorporates news from current events, in addition to a structured format that has been preconceived for the show. For instance, in one segment, Moore plans to bring up one conservative audience member each night, asking him or her questions and offering advice about how to deal with liberals.
Presidential Box Seats Reserved
Most mysteriously, Moore states that the purpose of putting on this show is to take down Donald Trump. The tagline is: "Can a Broadway show bring down a sitting president?" In jest, the production will leave open the presidential box seats in the Belasco theatre each night, reserved for Donald Trump should he deign to appear, or perhaps for Mike Pence.
Unlike when Pence saw Hamilton, however, Moore joked that he would not be booed at The Terms of My Surrender. Chances are that he might be, however, and Pence is unlikely to show up.
Is Broadway A Self-Indulgent Platform For This Mission?
Michael Moore has amassed a large following of fans who respect his authoritative voice amidst political chaos. He has done a lot of work on-the-ground for his documentaries, such as visiting the school where the Columbine shooting took place to spread awareness of issues regarding gun violence.
However, in the case of The Terms of My Surrender, some skeptics argue that a Broadway theatre, where tickets easily go for at least $100, and which seats about 1,000 people each night, is a venue where Moore will generally be preaching to the choir.
Anxiously Awaiting Reviews
The ticketbuyers for Moore's show will generally be self-selecting liberals, and they will largely be attending with the intent to agree with Moore. If he is really trying to take down a sitting president, it remains unclear how a Broadway show is the right platform to do so. Moore's colleagues have recounted how by virtue of his personality, he is a permanent outsider, which makes him an effective voice amidst the noise of the masses.
Nevertheless, this outsider personality results in a fine line between truth-telling and self-indulgence. As performances are underway, it will become clear if the mystery surrounding The Terms of My Surrender is due to some secret powerful tool yet to be revealed, or whether it's because Moore will just be winging it and making things up as he goes along.