Mark Rylance Begins in "Farinelli and the King"
Farinelli And The King Began Previews On Broadway, Starring Mark Rylance, Written And With Musical Arrangements By Claire Van Kampen, Directed By John Dove.
---
Claire Van Kampen Is Both Playwright And Musical Arranger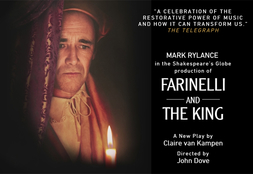 On December 5, 2017, Farinelli and the King began previews at the Belasco Theatre, where it is currently scheduled for an opening night of December 17, 2017. The run is currently scheduled for a limited engagement to conclude on March 25, 2018.
This new play is written by Claire van Kampen, and also has musical arrangements by van Kampen, whose previous Broadway credits were all music composing credits: for Twelfth Night, Richard III, Le Bête, Boeing-Boeing, and True West.
Mark Rylance Connection
One thing that all but the earliest of these credits has in common is that all of these shows starred Mark Rylance, who also happens to be Claire van Kampen's husband. Mark Rylance is best known to Broadway audiences for his star turn as Johnny Rooster Byron in Jez Butterworth's play Jerusalem in 2012, which earned him the Tony Award for Best Actor in a Play.
Prior to that, he made his Broadway debut in the 2009 play Boeing-Boeing, which earned him his first Tony Award for the same honor. More recently, in 2014, Rylance starred in two simultaneously running all-male productions of Shakespeare plays, playing Olivia in Twelfth Night and Richard in Richard III, being nominated for both but winning the Tony Award for his cross-dressed performance in Twelfth Night.
Rylance's Broadway Journey
Previously, Rylance served as the artistic director at Shakespeare's Globe Theatre in London for the first decade of its existence, also acting and directing in every season. Upon his completion of that tenure, his acting career soared to new heights.
After years performing classics on the British stage, with occasional stints in New York, Rylance finally made his name in Hollywood in 2015, when he won the Academy Award for Best Supporting Actor for Bridge of Spies. Since then, he went on to play the title role in The BFG and Mr. Dawson in Dunkirk.
From The Globe To The West End To Broadway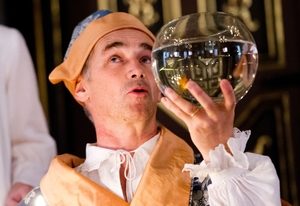 Farinelli and the King made its world premiere in winter 2015 at the Sam Wanamaker Playhouse at Shakespeare's Globe, where Rylance presided for a decade as artistic director.
The show is directed by John Dove, making his Broadway directorial debut. In the fall of 2015, Farinelli and the King transferred to the West End's Duke of York's Theatre, shepherded by lead producer Sonia Friedman, who is the longtime creative producing partner of both Rylance and van Kampen.
Broadway Arrival
Almost three years later, the play has finally found a home on Broadway, encouraged by the recent Hollywood success of the play's lead actor. In addition to Rylance, the cast transfers intact from London, with the majority of performers making their Broadway debuts. The only actors who have been on Broadway before are Colin Hurley (Twelfth Night, Richard III), who plays John Rich, and Lucas Hall (King Charles III, another Sonia Friedman production).
Besides, the cast making their Broadway debuts include Sam Crane, Iestyn Davies, Huss Garbiya, Melody Grove, James Hall, and Edward Peel. Set in the 18th century, Farinelli and the King is the story of King Philippe V of Spain, who suffered from insomnia until he discovers the music of castrato Farinelli can comfort his ailments.
Exploring An Era
The king demands Farinelli continue to sing to him, but Farinelli is forced to choose between pursuing his own musical ambitions, or pursuing the blessed life of solitude with a mad king. In his review of the original Globe production, Michael Billington in his Guardian review stated that "plays about mad kings are always popular."
Time will tell whether American audiences respond as favorably to this story set in such a different era, but Rylance has amassed a large following due to his consistently bombastic and pleasing interpretations of delightful characters.

Discount Broadway Tickets
---
---