Manhattan Theatre Club's "The Father" Begins Previews on Broadway
Frank Langella Stars In Florian Zeller's The Father, Translated By Christopher Hampton, Which Began Previews On March 22, 2016.
---
Molière Award Winning Best Play Translated From French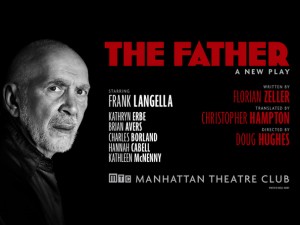 On March 22, 2016, The Father began previews at Manhattan Theatre Club's Samuel J. Friedman Theatre. Official opening night is scheduled for April 14, 2016, and the closing date is not yet announced. The play is written by French playwright Florian Zeller, for whom this is his Broadway debut.
Zeller is a young writer who has been receiving a lot of acclaim in Europe, beginning with debut novel at age 22. His successful novel La Fascination du Pire, which was published in 2004, took home the prestigious Prix Interallié.
"The Father" Won The Molière Award For Best Play
His plays include L'Autre, Si tu mourais, which was nominated for a Globe de Cristal, La Mère, which earned a Molière Award in 2011, and La Vérité. Le Père, here translated as The Father, won the Molière Award for Best Play in 2014. The Molière Award is the biggest French theatrical honor.
His regular translator is Christopher Hampton, who has written and translated many works performed on Broadway before, including The Philanthropist, God of Carnage, The Seagull, Les Liaisons Dangereuses, Dracula, The Musical, and Sunset Boulevard. This production of The Father is directed by Doug Hughes, whose previous Broadway directorial credits include Outside Mullingar, The Big Knife, An Enemy of the People, Born Yesterday, and Elling.
Tony Award Winner Frank Langella Stars In The Title Role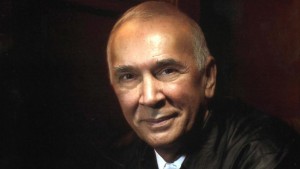 Frank Langella plays the role of André, who is a retired dancer living with his adult daughter and her husband, or, perhaps he is a retired engineer whose adult daughter pays him a visit after having moved away with her boyfriend.
This ambiguity is at the heart of The Father, a play that deals with the fleeting concept of identity and memory, especially regarding old age and dementia. Frank Langella was last seen on Broadway in the 2011 production of Man and Boy, for which he was nominated for a Tony Award.
Kathryn Erbe Stars Alongside Langella
He has won three Tony Awards in the past, for his roles in Seascape (1975), Fortune's Fool (2002), and Frost/Nixon (2007). His other Broadway credits include A Man for All Seasons, Match, Present Laughter, and an entirely different play called The Father, written by August Strindberg.
Among his many screen performances, he was nominated for an Academy Award for his reprised performance in the film version of Frost/Nixon. The role of André's daughter, Anne, is played by Kathryn Erbe, whose previous Broadway credits include A Month in the Country, The Speed of Darkness, and The Grapes of Wrath. The other parts are played by Brian Avers, Charles Borland, Hannah Cabell, and Kathleen McNenny.
Last Minute Actress Replacement
On March 16, 2016, less than a week before the start of previews, it was announced that the role of "Woman" in The Father, previously announced to be played by Liz Wisan, would in fact be played by Kathleen McNenny. It is unusual for a cast member to be replaced so soon before a show enters performances, but in this case, the director Doug Hughes made it clear that McNenny was the best person for the role.
No other reason was provided for the last-minute change. An official statement to that effect was given by Lynne Meadow, the artistic director of the Manhattan Theatre Club. No word on the matter from Liz Wisan's usually chatty Twitter account @LizWisan