Macbeth Closes on Broadway at Vivian Beaumont Theatre
Macbeth Closes On Broadway At Vivian Beaumont Theatre. Actor Ethan Hawke Took On The Lead Role In 'The Scottish Play Which Received Critical Acclaim.
---
Shakespeare's Broadway Productions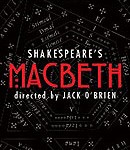 It's been a big season for the Bard on Broadway, with productions of Romeo and Juliet, Twelfth Night, Richard III, and William Shakespeare's famed tragedy Macbeth, which concluded its run at Lincoln Center Theater's Vivian Beaumont Theatre today.
Ethan Hawke Stars In Macbeth
Actor Ethan Hawke took on the lead role in 'the Scottish play' (as it is often called by those too superstitious to say its name) for this production, which featured direction by Jack O'Brien and co-starred John Glover, Richard Easton, Malcolm Gets, Byron Jennings, Brian d'Arcy James, Daniel Sunjata, and Anne-Marie Duff, who made her Broadway debut as Lady Macbeth.
Macbeth was previously seen on Broadway just last season in a nearly-solo production featuring Alan Cumming (soon to be back on Broadway this season in the re-revival of Cabaret) playing all of the parts himself.

Discount Broadway Tickets
---
---