Lyric Theatre Faces Challenges With String of Failed Big-Budget Shows
---
The Lyric Theatre, located at 213 West 42
nd
Street in the Broadway Theatre District, has had a shaky history. The gigantic 1,829 seat venue is the second largest theatre on Broadway, but filling the enormous number of seats is only the beginning of the challenges that it has faced. Most recently, the Lyric housed the infamously expensive, accident-prone, and eventual flop
Spiderman: Turn Off the Dark
, though at that time it was named the Foxwoods Theatre. Since that show closed on January 4, 2014, the theatre has been dark, and it will remain so until September 20, 2014, when previews will begin for its next show: a revival of the 1940s musical comedy
On the Town
. In order to understand the storied history of this venue, it is helpful to take a step back. The present building was constructed in 1996, unt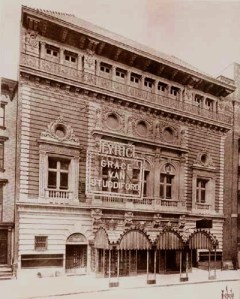 il which time the site housed two theatres: the Apollo and Lyric Theatres. Both the Apollo and the Lyric were home to plays and musicals until the 1930s, when they were converted into film venues. However, by the 1970s, the theatres were struggling, and by the 1990s, they had fallen into such disrepair that the City of New York decided to tear them down, with the exception of certain architectural elements that were preserved as mandated by their landmark status. Upon its reconstruction, the new larger theatre was named the Ford Center for the Performing Arts. The first production in the Ford Center was
Ragtime
, a dazzling musical with a huge cast. Although this ambitious musical made a huge splash, it received mixed reviews and closed at a financial loss after two years. After housing two revivals –
Jesus Christ Superstar
and
42nd Street
– the Ford Center was completely reconstructed in 2005 and subsequently renamed the Hilton Theatre. Unfortunately, the new name and façade did not bring success to the theatre. The first show in the newly dubbed Hilton was
Chitty Chitty Bang Bang
, which was both extravagant and poorly received, closing at a major financial loss after only eight months. The next string of shows was not much more successful. A dance musical called
Hot Feet
closed after three months,
Dr. Seuss' How the Grinch Stole Christmas
ran just for the holiday season, and
The Pirate Queen
was another famous flop, running for only three months. The final show at the Hilton Theatre was
Young Frankenstein
. With a budget of $16 million and a run of just over a year, the show was most likely a financial flop as well, although those produce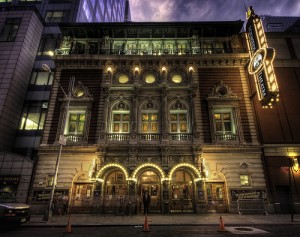 rs opted to keep their box office returns confidential. After the closing of
Young Frankenstein
, the theatre remained dark throughout the year 2009. Under an agreement with Foxwoods Casino and Live Nation, the theatre was then renamed the Foxwoods Theatre in anticipation of the arrival of mega-budget musical
Spiderman: Turn Off the Dark
. The saga of
Spiderman
is still fresh is the minds of Broadway fans: the musical stalled in previews for seven months before opening, caused numerous injuries for its flying cast members, involved the firing of director Julie Taymor and reconfiguring of the entire script months into its run, and was reported to be capitalized at the ridiculously extravagant budget of $75 million. Though this show did earn the Foxwoods its weekly gross record of $2,941,790.20 over nine performances at over 100% capacity in the last week of 2011, the scandalous publicity could only draw ticket buyers for so long, and eventually the show had to close at a serious loss after just over three years. One year ago, it was reported that the UK-based Ambassador Theatre Group had acquired the lease for the Foxwoods for $60 million, although the New 42
nd
Street organization stayed on as landlord.
Spiderman
closed not long after this changeover, and ATG then opted to change the name once again. In March 2014, the venue was redubbed the Lyric Theatre, and it was pla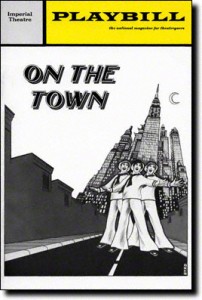 nned for the Australian mega-budget musical
King Kong
would arrive next winter. However, due to creative delays and financial worries of being associated with
Spiderman
,
King Kong
has delayed their Broadway run, and instead a revival of
On the Town
will be the show to christen the Lyric. In fall 2014, the producers Howard and Janet Kagan will mount a revival of this 1940s romp musical about three sailors looking for dates while on leave in New York City. This is a surprising move, given that a revival, especially one as potentially dated as
On the Town
, will likely have significant trouble filling such a huge venue. It therefore looks as though the difficulties may continue for this volatile venue, which for now we shall call the Lyric Theatre.