Lynn Nottage's Broadway Debut "Sweat" Opens at Studio 54
Sweat Opened At Studio 54 To A Blend Of Mixed Reviews With Some Very Positive And A Few Negative This Show Is Having A Tough Time Selling Out At The Box Office On Broadway
---
Kate Whorisky Directs Broadway Premiere of New Play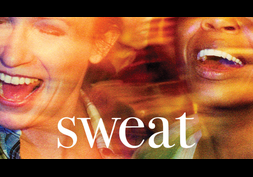 On March 26, 2017, Sweat opened at Studio 54 on Broadway, where it had been running in previews since March 4, 2017. This new play by the Pulitzer Prize winning playwright Lynn Nottage (Ruined, Intimate Apparel, By the Way Meet Vera Stark) had its world premiere at the Oregon Shakespeare Festival in Ashland, Oregon in July 2015, followed by the Arena Stage in Washington, D.C. in January 2016. The show had its New York premiere Off-Broadway at the Public Theater in November 2016, where the run was sold-out and extended three times.
The Public Theater, which was founded by Joseph Papp in 1954, has had a long history of successful incubation of theatre works that find their way to Broadway. In addition to Sweat, the Public recently originated the play Eclipsed and the musicals Hamilton and Fun Home, and prior transfers include Bloody Bloody Andrew Jackson, A Chorus Line, The Normal Heart, Hair, Caroline or Change, Take Me Out, Topdog/Underdog, The Merchant of Venice, and For Colored Girls Who Have Considered Suicide When the Rainbow is Enuf. This production of Sweat is historic in that it marks the long-awaited Broadway debut for the playwright Lynn Nottage, who won a Pulitzer for Ruined in 2009 but has not previously been giving the honor of a Broadway production.
Many Positive Reviews for Portrait of Working Class America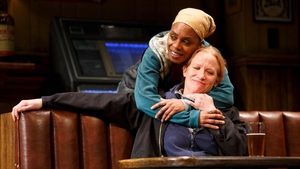 Upon the show's opening night, critics were impressed by the production. Ben Brantley from The New York Times was lukewarm in his review, calling it "bracingly topical" but also acknowledges that it could use more moments of "rich eloquence." He also statex that Sweat does not reach the same level of passion as Nottage's Pulitzer winning play Ruined, which erases the distance between the actors and the characters they are embodying. Meanwhile, other critics were more entirely positive in their reviews.
Matt Windman from AM New York called it timely, empathetic, and critical-minded, also complimenting Kate Whorisky's textured direction and the triumphant performances of the ensemble cast. Caitlin Brody of Entertainment Weekly found the play to be compelling, calling it a fascinating study of class and opportunity. David Cote from Time Out New York was also impressed by the show, which he called a "wake-up social tragedy," as well as a passionate and necessary drama, and a masterful depiction of the forces that divide and conquer us. However, Joe Dziemianowicz from the New York Daily News did not like the play, finding it to be predictable and miscalibrated in terms of staging and believability.
Tough Sell For "Sweat" at the Broadway Box Office
Despite the largely positive reviews, this show is having a difficult time gaining traction at the box office. In the week ending March 19, 2017, Sweat brought in a weekly gross of $244,448, which represents 37.19% of its gross potential. With a top ticket price of $199.00, the average paid admission was $55.48, and the audience was filled up to an average of 83.6% of capacity.
Over the first three weeks of the run, the average percentage reached of gross potential was 46.25%. While the reviews may boost word of mouth, this straight play with no big stars will have a tricky time competing with all the glitzier fare on Broadway this season. Sweat is currently scheduled for an open-ended run at Studio 54.