"Long Day's Journey Into Night" Begins Previews on Broadway
Long Day's Journey Into Night Has Begun Previews At The American Airlines Theatre Starring Gabriel Byrne, Jessica Lange, And Others.
---
Roundabout Theatre Company Production Of Eugene O'Neill Play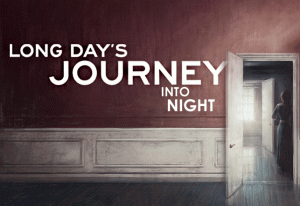 On April 3, 2016, Long Day's Journey Into Night began previews at the American Airlines Theatre in a Roundabout Theatre Company production. Now considered a classic of American theatre, this play was written by Eugene O'Neill in 1941, but the first production was not until 1956, which is also when it was first published.
A 1962 revival on Broadway was short-lived, running for only 2 performances. The play was then revived in 1986, followed by another premature revival in 1988 that lasted only 30 performances.
2016 Revival Directed By Jonathan Kent
In 2003, the play was revived once again, this time starring Brian Dennehy, Philip Seymour Hoffman, and Vanessa Redgrave. This 2016 revival is directed by Jonathan Kent, whose previous Broadway credits include Faith Healer, Man of La Mancha, Hamlet, and Medea.
The production stars Gabriel Byrne (A Touch of the Poet, A Moon for the Misbegotten), John Gallagher, Jr. (Jerusalem, American Idiot, Spring Awakening), Jessica Lange (The Glass Menagerie, A Streetcar Named Desire), Michael Shannon (Grace, "Boardwalk Empire"), and Colby Minifie (The Pillowman, Off-Broadway's Punk Rock). The play will officially open on April 27, 2016, and is presently scheduled to run until June 26, 2016.
An Ordinary Summer's Day With Extraordinary Aftermath
Long Day's Journey Into Night is widely deemed to be Eugene O'Neill's magnum opus. Written in four acts and in this case running 3 hours and 45 minutes, including one 15-minute intermission, this play is nonetheless captivating and extremely moving.
In spite of this, the story of the play takes place just over the course of one day, hence the play's title. The Pulitzer Prize for Drama was awarded to Eugene O'Neill in 1957 for this work, even though he died in 1953, as the production took years to be mounted after the play was written.
Semi-Autobiographical Dynamic Story
The story concerns the Tyrone family, living in 1912 in a seaside home in Connecticut, and it is considered to be semi-autobiographical. The father, James (Gabriel Byrne), is an aging actor who has grown resentful of being well known for only one role he ever played, and the mother, Mary (Jessica Lange), is addicted to morphine, for which she has just returned from treatment at the beginning of the play.
They have two sons: Edmund (John Gallagher, Jr.), whose constant coughing concerns his family that he may have tuberculosis, and Jamie (Michael Shannon), an actor like his father who has trouble finding work due to his coarse reputation. The fifth character, Cathleen (Colby Minifie), the summer maid. Over the course of one day, the play allows us insight into this family's dysfunctions and dynamics, shedding light on the notions of addiction, blame, resentment, and denial.
An Excellent Cast And Creative Team
The play has scenic design by Tom Pye (The Testament of Mary), costume design by Jane Greenwood (Bright Star), lighting design by Natasha Katz (School of Rock – the Musical), and sound design by Clive Goodwin (Old Times). This is also one of the most exciting casts on Broadway.
Among their many achievements, Jessica Lange has won two Oscars for her roles in Tootsie and Blue Sky, Michael Shannon was nominated for the Oscar for Best Supporting Actor for Revolutionary Road, Gabriel Byrne was nominated for a Tony Award for his performance in A Moon for the Misbegotten, also by Eugene O'Neill, John Gallagher, Jr. won the Tony Award for Best Featured Actor in a Musical for his role in Spring Awakening, and Colby Minifie is a young actress fresh on the scene who has most recently been seen as Robyn in the Netflix show "Jessica Jones."