Let's Go Dutch: Celebrate Hudson's Voyage with NY400 Week
---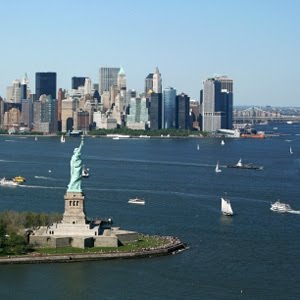 Today marks the start of New York City's NY400 Week (Sept. 8-13), a celebration of Henry Hudson's 1609 voyage from Amsterdam to New York and the subsequent founding of New Amsterdam. The festivities kicked off this morning with a flotilla of Dutch ships sailing into New York Harbor, and events roll out throughout the week. They include the following: Wednesday, Sept. 9: The New Amsterdam Pavilion will be unveiled at Peter Minuit Plaza on The Battery; it's a gift from the Dutch government to the city and represents the 400-year Dutch history in New York. 11:00 AM-noon. Thursday, Sept. 10: Seventeen ships like the ones that Hudson and his crew sailed in will arrive at Governor's Island. Captains and crew will answer questions, so think up some good ones. Late afternoon. Friday, Sept. 11: Bike around town on a free Dutch bike (11 am-7:00 PM). Get yourself to Bowling Green (Broadway and Beaver Street) for a free orange NY400 bike to toodle around the city. They're available on a limited basis through Sept. 12, so do as the Dutch do and grab some wheels. Saturday, Sept. 12:
The New York Connection
premieres: Come watch this documentary on Dutch history in New York at the Museum of the City of New York (1220 Fifth Avenue at 103rd Street;6:30 PM.) Sunday, Sept. 13: Harbor Day: The culminating event of NY400 Week takes place at six waterfront locations, from Governors Island to Battery Park City. Highlights include an Oyster Festival in Hudson River Park; and Battery Park City's musical Harmony on the Hudson Festival. All the waterfront sites are acessible by free rental bikes and hop-on/hop-off boat sevices. Call (646) 557-2277 for more information.