Les Misérables Soundtrack Tops Billboard
Les Misérables Continues To See Success On Film And Now The Soundtrack Featuring 20 Highlight Songs Reaches #1 On Billboard's Soundtrack Chart
---
"Les Misérables" Movie Highlights Soundtrack Sells Over 40,000 Copies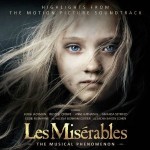 The Les Misérables film is not the only Les Miz-related item topping charts this week. Due to all the hoopla surrounding the new movie, its accompanying soundtrack (Les Misérables: Highlights From the Motion Picture Soundtrack) is also selling well, placing #1 on Billboard's Soundtracks chart and #33 on the Billboard 200.
Since its December 21 release, the Les Misérables movie soundtrack has sold more than 43,000 copies. The album's most popular track is one of the musical's best-known songs, "I Dreamed a Dream" (sung by Anne Hathaway), which has sold over 20,000 copies.
20-Track Highlights Soundtrack
Although the "Highlights" soundtrack does not feature all of the music heard in the 2 hour 40 minute long movie, the 20-track recording does include all of the major songs and musical sequences from the movie musical, among them "Master of the House," "Stars," "On My Own," "One Day More," "Bring Him Home," and a new song written specifically for the movie called "Suddenly".
Over the years, Les Misérables has had many different recordings, including the London cast album, the original Broadway cast recording, and others. Many of these albums have also experienced a boost in sales, with the Broadway recording hitting #2 on the Top Cast Albums chart, the London recording at #5, the 25th anniversary production's accompanying recording at #7, and the Royal Albert Hall concert recording at #8.