Les Misérables Movie Receives 8 Oscar Nominations
The Newest Broadway Hit Les Misérables, Starring Hugh Jackman And Anne Hathaway, Is Buzzing As The Production Receives 8 Oscar Nominations
---
Broadway Stage Phenomenon "Les Misérables" Receives 8 Oscar Nominations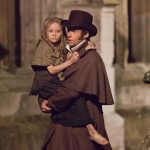 The new film version of the stage phenomenon Les Misérables, which opened to excellent box office on Christmas Day, fared well today on the awards level when the Academy Award nominations were announced this morning.
Les Misérables nabbed a total of eight Oscar nominations, including the most coveted award, Best Picture. The nominations that Les Misérables received were mostly as expected. The greatest amount of buzz has surrounded Hugh Jackman (as Jean Valjean) and Anne Hathaway (as Fantine), and they earned the movie musical's only two acting nods, for Best Performance By a Leading Actor and Best Supporting Actress, respectively.
Hugh Jackman And Anne Hathaway Receive Nominations
As a period piece, it's not surprising that Les Misérables took nominations for Best Production Design, Best Costume Design, and Best Makeup and Hairstyling. Given that it's a musical, and one that notably used the unusual technique of live singing, it also is no surprise that it got a Best Sound Mixing nod.
Perhaps the biggest shoo-in for a nomination was composer/lyricist team Alain Boublil, Claude-Michel Schönberg, and Herbert Kretzmer for Best Original Song. As has become tradition for film musicals, the team especially wrote a number, "Suddenly" (sung by Hugh Jackman), for the movie, in the hopes of getting the Oscar nomination for original song -- and they did.