Lauded Revival of Angels In America Closes
Angels In America Closes At The End Of This Week On July 15, 2018 After Earning 11 Tony Nominations, Which Is The Most Of Any Play In Broadway History.
---
Final Performance Of Angels In America Revival to Take Place on July 15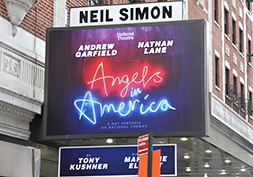 On February 23, 2018, Angels in America began previews at the Neil Simon Theatre, ahead of its opening night on March 25. This epic play by Tony Kushner is performed in two full-length parts, Millennium Approaches and Perestroika. The show's Broadway debut took place in 1993, directed by George C. Wolfe.

This first revival originated in London at the National Theatre, where it became the fastest selling show in that theatre's history. The show is directed by Marianne Elliott, a regular at the National Theatre whose War Horse in 2011 and The Curious Incident of the Dog in the Night-time in 2014 on Broadway were extremely successful.

Revival cast of Angels
Many members of the London cast transferred to Broadway. These include Andrew Garfield as Prior Walter, Nathan Lane as Roy M. Cohn, Susan Brown as Hannah Pitt, Denise Gough as Harper Pitt, Amanda Lawrence as The Angel, James McArdle as Louis Ironson, and Nathan Stewart-Jarrett as Belize. In addition, Emmy nominee Lee Pace joined the cast on Broadway in the role of Joseph Pitt.

11 Tony Nominations, and Winner of Best Revival of a Play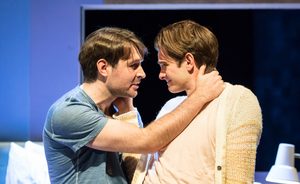 Angels in America earned 11 Tony Award nominations, which tied for the second highest number among all shows. Ultimately, the show won three awards: Best Revival of a Play, Best Leading Actor in a Play for Andrew Garfield, and Best Featured Actor in a Play for Nathan Lane.

Along the way, Angels in America broke the record for the highest number of nominations of any straight play in history. When these nominations were announced, the show was extended for two more weeks from its originally announced closing date of July 1, 2018. This was following a string of highly positive reviews.

Critical acclaim abounds...
The New York Times called the show "flat-out fabulous" and the cast "top-flight," while Greg Evans said the "masterwork...remains as rich a theatrical experience as when Kushner won the Pulitzer back in '93." Variety compared the show to "picking up a scorching hot ember from a fire that won't burn out," and Entertainment Weekly stated that "this renewed reminder that the world will spin forward also through these troubled times feels especially welcome."

But not enough to break the box office
Nevertheless, the box office for this show was never a complete sell-out. Over the course of all reported box office figures thus far, which include all but this final week, Angels in America has brought in an average of 66.84% of its gross potential. With a top ticket price of $247.00, the average paid admission of the run to date has been $101.21, and the audience has been filled up to an average of 91.93% of its capacity.

This is made more difficult by the two play structure, which increases time commitment, as well as the price point. This is in a season that also has the newly opened Harry Potter and the Cursed Child, which won the Tony Award for Best Play, and which also requires the two-play commitment. While this revival may not have recouped, it was a sincere pleasure for all who viewed it, and it will certainly go down in history as a success.
Discount Broadway Tickets
---
---