"Latin History for Morons" Begins Previews
John Leguizamo Brings Another One-Man Show To Broadway, Latin History For Morons, Which Is Now In Previews At Studio 54.
---
John Leguizamo Brings Another One-Man Show To Broadway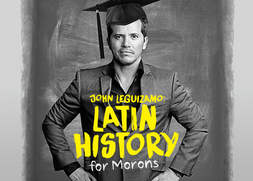 Today, October 19, 2017, Latin History for Morons begins previews at Studio 54, ahead of an opening night scheduled for November 15, 2017. This one-man show starring John Leguizamo is scheduled to run until the closing date of February 4, 2018.
John Leguizamo is a Colombian-American actor, comedian, and writer who is a beloved star of stage and screen. On Broadway, Leguizamo has specialized in bringing his one-man shows to a large audiences, a feat that is all too difficult to achieve for the majority of performers.
A History Of Success
His first Broadway show was the 1998 production of Freak, which was directed by Spike Lee, filmed for HBO, and won Leguizamo the Drama Desk Award for Outstanding One-Person Show. In 2001, he debuted the one-man show Sexaholix, which dealt with his love life and how he started a family. He then revived that show in 2003.
In 2008, he made his one and only Broadway appearance to date that was not a one-man show: David Mamet's American Buffalo. In 2011, he brought his one-man show Ghetto Klown to Broadway, which is based on his memoir "Pimps, Hos, Playa Hatas, and All the Rest of My Hollywood Friends: My Life." This show dealt with his life from obscurity to stardom, and received very positive reviews.
"Latin History for Morons" Traces Marginalization Of Latinos Across History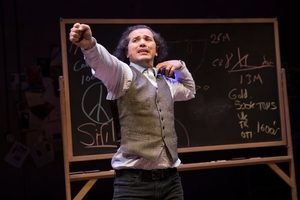 Now, Leguizamo brings yet another one-man show, Latin History for Morons, to Broadway following a successful Off-Broadway run at the Public Theater. This production is directed by Tony Taccone, the artistic director of Berkeley Repertory Theatre, whose previous Broadway directing credits include Wishful Drinking and Bridge & Tunnel.
In addition to the Off-Broadway run, Latin History for Morons played at the Berkeley Repertory Theatre, and both of those theatre companies co-produce the Broadway run, along with Nelle Nugent and Kenneth Teaton.
Original Music And Sound
The show also has original music and sound design by Bray Poor, along with scenic design by Rachel Hauck, and lighting design by Alexander V. Nichols. The show, which received rave reviews in its earlier incarnations, was inspired by what Leguizamo has described as his perceived "aggression" towards Latinos.
Like in many of his one-man shows, Leguizamo plays many different character in Latin History for Morons. In the play, he satirically delivers a history lesson at a chalkboard, and in addition to playing the teacher, he plays many Latinos across history who contributed to society over the years.
Leguizamo Charms Audiences
Comedically seeking to rectify the omissions in many history textbooks of these Latino contributions, Leguizamo succeeds in charming his diverse audiences, which also edifying them. In addition to speaking the parts of these characters, Leguizamo performs them with great physicality, ranging from freestyle choreography to interpret ancient Aztec and Inca rituals, to sambas, mambos, and tangos, as well as an Irish jig.
In the New York Times review of the Off-Broadway production, Ben Brantley called this show "harshly funny" and "surprisingly poignant." Once the show opens on November 15, 2017, it will remain to be seen if the critics are as laudatory of the Broadway production, but chances are that they will continue to be fans. As the show plays throughout the holiday season, there will be many chances to catch this impressive one-man show before the run is through.