Kinky Boots Now A Big Hit And Recoups Investment
Tony Award Winner Kinky Boots Impresses On Broadway And Recoups Original Investments In Its First Year With Little To No Discounting
---
"Kinky Boots" Recoups With Little To No Ticket Discounting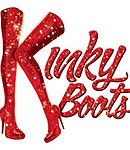 In its first year on Broadway, Kinky Boots has already made back its original investment of $13.5 million, an impressive accomplishment for any Broadway musical. By comparison, current top show competitors of Kinky Boots, Wicked and The Book of Mormon recouped in 14 and 8 months respectively.
And with little to no discounting, Kinky Boots profitability has no end in sight. "We're so happy that audiences have embraced Kinky Boots in such an overwhelming way," stated the show's lead producers, Daryl Roth and Hal Luftig. "We're proud that this show offers people such great joy, Tony Award-winning talent, and financial success, and it's exciting to be able to make this announcement in such a remarkably short time."
Tony Award Winner For Best Musical And Best Score
Kinky Boots, which is based on the independent British movie of the same name, began performances at the Al Hirschfeld Theatre on March 4. The musical went on to win several Tony Awards this past June, including Best Musical and Best Score for Cyndi Lauper.